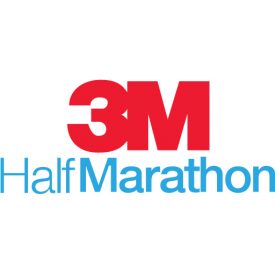 AUSTIN, Texas, January 17, 2018 – High Five Events, one of the largest privately owned event production companies in the United States, introduces Oskar Blues Brewery as the Official Beer Sponsor for the 2018 3M Half Marathon. The 3M Half Marathon will feature Oskar Blues signature Austin-brewed beers at the finish line festival's beer garden for finishers 21+.
"The 3M Half Marathon is an Austin institution that fits with our get-up and go attitude of mixing great outdoor efforts with music, beer and good times," said Oskar Blues' marketing director, Chad Melis.
Oskar Blues Brewery Austin, the original craft beer in a can, will offer 21+ finishers and spectators their award-winning, Austin-brewed beers on race day. The 3M Half Marathon's beer garden will provide runners and their friends and family a place to gather, relax, and enjoy any one of Oskar Blues' signature craft brews post-race. Available beers include Austin's own Dale's Pale Ale, Mama's Little Yella Pils, and Oskar Blues IPA.
"Last year's finish line festival was a huge celebration of great accomplishments highlighted by Oskar Blues Austin's beers in the beer garden," said Jack Murray, co-owner of High Five Events. "Runners could connect with friend and family, enjoy themselves post-race, and commemorate the moment with photos."
The 3M Half Marathon boasts one of the fastest 13.1-mile courses in the country and will celebrate its 24th year running in 2018. Runners enjoy a point-to-point course with mostly downhill running that showcases some of Austin's finest locations. Starting in north Austin and finishing near the Texas State Capitol, runners will appreciate a 300'+ net elevation drop. Participants can register on the website.
About High Five Events: Beginning with the launch of a single triathlon in 2003, High Five Events has grown to become one of the largest privately owned event production companies in the United States. In addition to the events it owns and produces, the Austin, Texas-based company offers consulting and event production services to dozens of additional events each year. High Five Events is community-centric and has more than 100 years' combined experience organizing large events across different venue types in a variety of locations. Follow High Five Events on Twitter (@highfiveevents), Instagram (@highfiveevents), and Facebook (facebook.com/HighFiveEventsWorldWide/) for news and updates.
About Oskar Blues Brewery Austin: Founded 20 years ago Oskar Blues Brewery launched the Original Craft Beer in a Can with their hand-canned, flagship brew Dale's Pale Ale. Oskar Blues Brewery's Austin location at 10420 Metric Boulevard, near the Domain in North Austin, opened its doors to the public in late-July 2016 with a focus on providing the freshest possible OB beer to Texans. The taproom boasts a 5000 square foot space with a state-of-the-art sound system and live music venue. The Austin location, Oskar Blues' third brewery spans 50,000 square feet and brews all of OB's well-known lineup plus many Austin exclusive specialties. The original craft beer canners continue to push innovation with creations like The CROWLER, CAN'd Aid Foundation, Hotbox Coffee Roasters, B. Stiff & Sons Old Fashioned Sodas, Oskar Blues Fooderies, REEB Cycles and the cycling inspired accommodations and event space at REEB Ranch in North Carolina. Oskar Blues is available in all 50 U.S. states, Washington, D.C., parts of Canada, Puerto Rico, Sweden, Norway, Finland, Spain, France, the Netherlands, Belgium, Luxembourg, the U.K., Ireland, Australia, New Zealand, Chile, Brazil, and South Korea. To keep up with all things Oskar Blues, visit http://www.oskarblues.com.