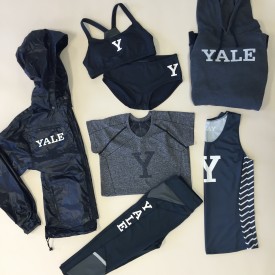 Women's Athletic Apparel Company Announces Partnership with Prestigious Ivy League Division I University
August 19, 2015 – Seattle, Washington – Oiselle, a women's athletic apparel company, is honored and thrilled to announce that they will be the official apparel of the Yale Women's Cross Country and Track and Field programs starting in Fall 2015. This marks Oiselle's first and only university affiliation in what they hope will create future opportunities with similar collegiate athletic programs.
Oiselle is an apparel company dedicated exclusively to the needs of women athletes. Based in Seattle, Washington and founded in 2007, Oiselle embodies the notion that training and competing transcend the athletic endeavor, to help women maximize their community, courage, and confidence.
Yale possesses a long and storied history in the sport, with a rich tradition that includes Olympians Frank Shorter '69 and Olympic Coach Mark T. Young '68. After women were admitted to Yale in 1969, the women's programs took root and flourished. In the fall of 1987, the Yale Women's XC Team achieved 3rd place at the NCAA Championships, to date the highest ever women's team finish by an Ivy League school. The Yale program has throughout its entire history produced outstanding runners and leaders, including Patricia Melton '82, the Executive Director of New Haven Promise; Kate O'Neill '03, the first female Track and Field Olympian from Yale; and middle distance standout Kate Grace '11, professional runner for Oiselle. Connections between Yale and Oiselle are many: an early Oiselle investor, Sarah Lesko (neé Smith) '91, was also a Yale XC Captain and former school record holder.
Says Coach David Shoehalter, the Director of Yale Track and Field and Cross Country, "We are very excited about outfitting our women in Oiselle. Ever since Kate Grace '11 signed with the company we have admired what they do. Sally and her team have worked hard to craft a look for our team that is modern yet still respects the history and tradition that Yale Track and Field and Cross Country embody."
Adds Founder and CEO of Oiselle, Sally Bergesen, "This was an incredible opportunity for us. In the same way that Oiselle was founded to rethink women's athletic apparel, this was a chance to rethink what a collegiate kit could be and look to raise the bar. But the best part of course will be seeing the athletes in motion. We're incredibly honored to have them wearing Oiselle!"
Head up, wings out… and Boola Boola!
About Oiselle:
Oiselle is an athletic apparel company dedicated exclusively to the needs of women athletes. Based in Seattle, Washington and founded in 2007, Oiselle embodies the notion that running is more than a physical activity, but also a philosophy that helps women increase their courage, confidence and health. A French word for bird, Oiselle (pronounced wa-zell) alludes to that feeling of freedom and flight that most runners know; when the legs go fast and the heart goes free.
About Yale Athletics:
Yale Athletics comprises 35 varsity sports as well as intramural and club programs that include participation from a combined 75 percent of the student body. Yale is a member of the National Collegiate Athletic Association (NCAA), the Ivy League, the Eastern College Athletic Conference (ECAC) and ECAC Hockey.  Yale Athletics took part in the first intercollegiate athletic competition of any kind, an 1852 boat race in New Hampshire. Since then, Yale has won 109 team national championships in a variety of sports, including the 2013 men's hockey NCAA title.