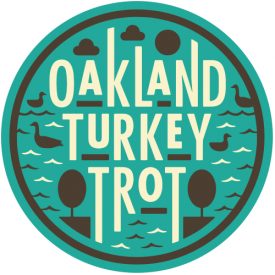 November 8, 2017 (Oakland, Calif.) — The inaugural Oakland Turkey Trot will kick off The Town's first ever 5K run / walk on Thanksgiving morning at the Lake Merritt Pergola, benefitting Alameda County Community Food Bank and the Oakland Education Fund. The event features a Team Challenge, presented by Oakland's biggest employer, Kaiser Permanente, and Stomper's Stomp presented by the A's. Mayor Libby Schaaf, Stomper and other special guests are slated to attend the pre-event ceremony, which begins at 8:30am. The post-race Safeway Finish Line Festival will feature a curated line-up of the grocer's in-house brands.
"We're excited to add the Oakland Turkey Trot to the list of family-friendly events taking place in our community this holiday season," said Mayor Schaaf. "The Turkey Trot race on Thanksgiving is a fun way for families, friends, and local organizations to enjoy a healthy outdoor activity together, while raising awareness and needed resources for Alameda County Community Food Bank."
"This is a wonderful opportunity to come together and start a new tradition while providing nourishment and hope for our community," says Suzan Bateson, Executive Director of Alameda County Community Food Bank. "Our community and public partnerships are critical to our ability to serve 1 in 5 Alameda County residents. We're grateful for the support of the Oakland Turkey Trot, Safeway, Kaiser Permanente, the Oakland A's, Mayor Schaaf and—of course—every participant in making this Thanksgiving and holiday season a truly special one."
All participants will receive a premium t-shirt designed by The Illuminaries, Bay Area professional street artists and graphic artists responsible for several award-winning murals in Oakland. Registrants will also receive chip timing and a coveted post-race award. All finishers will be awarded a medal and kids in Stomper's Stomp presented by the A's will receive an identical, but safer, softer alternative.
"The A's are very excited to take part in the inaugural Oakland Turkey Trot this Thanksgiving," said A's President Dave Kaval. "The Stomper Stomp is a great way to encourage kids to lace up their shoes, have fun, and take part in a healthy activity."
The Oakland Turkey Trot 5K begins at 8:30am on Thanksgiving morning followed by Stomper's Stomp at 9:30am, which features three distances for ages 2-8. Registration and event details can be found at oaklandturkeytrot.org, in addition to volunteering and donation links. Oakland Turkey Trot is a 501c3 public charity.
About Oakland Turkey Trot
We're a passionate group of Oakland residents with a mission to raise impactful funds for the Alameda County Community Food Bank and Oakland Education Fund. We've partnered with the City of Oakland, Mayor Schaaf and local corporate sponsors and friends to bring Oakland an authentic local experience that is fun, inclusive and unites our community. The Oakland Turkey Trot is a 501c3 Tax-Exempt Foundation based in Oakland. Charity ID: 82-1597404
Alameda County Community Food Bank
Alameda County Community Food Bank has been at the forefront of hunger relief efforts in the Bay Area since 1985. This year, the Food Bank will distribute the equivalent of 31 million meals. More than half of the food we distribute is farm-fresh produce. The Food Bank serves 1 in 5 Alameda County residents by distributing food through a network of 200 food pantries, soup kitchens, and other community organizations, as well as direct-distribution programs including Children's Backpack and Mobile Pantry. For 10 consecutive years, Alameda County Community Food Bank has received Charity Navigator's top rating — Four Stars — ranking the organization among the top 1 percent of charities nationwide. Learn more at accfb.org.