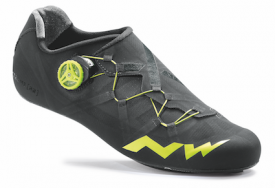 Northwave, storied Italian maker of biking shoes, apparel, and accessories including the highly regarded Extreme RR road shoes and Outcross mountain bike trail shoes, to better serve its customers across sales channels, has established dedicated distribution for the North American market, and will begin shipping through this system beginning in September.
Northwave retailers will be able to access an expanded offering of models and colors via Northwave reps and through the newly launched Shop.Northwave.com website. Northwave products will no longer be available through Hawley-Lambert.
Michele Battocchio, Director of Sales and Marketing for Northwave, said of the move, "We are grateful to our friends at Hawley-Lambert for their support of the Northwave brand over the past years. It is time for a new chapter in Northwave's history, during which our aim is to have a closer, more direct, and more mutually beneficial relationship with our retail customers and improve service for our end users, as we grow the Northwave brand in the North American market."
The revised sales and distribution system further allows Northwave more direct ability to monitor MAP policy and compliance.
Northwave has brought on sales staff to directly serve retail customers in Canada and the U.S. Contact Info:
PRESS CONTACT
Liz VerHoeven, Thorpe Marketing
liz@thorpemarketing.com 303-746-3040
About Northwave
Northwave is an Italian company that was born in the footwear district of Montebelluna in the late '80s. Created after a careful process of analysis and technical research carried by its R&D department, Northwave products are a true excellence of Italian design and are tested by the best riders worldwide. This continuous attention for research and the introduction of innovative materials and solutions makes the Northwave brand truly synonymous with top quality and of a complete range of products that constantly evolve and improve.