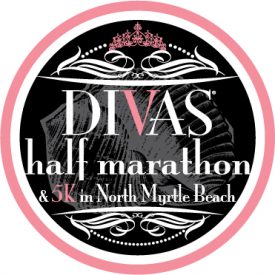 Warm weather and high spirits welcomed the Divas back to North Myrtle Beach
Miami, FL- The Divas® Running Series returned to North Myrtle Beach on May 7, 2017 and it did not disappoint.  With beautiful weather and over 4,000 Divas lining Ocean Boulevard for the sixth annual event, Downtown North Myrtle Beach was the place to be on Sunday morning.
Eleni Rundle from Apex, NC, placed first in the half marathon with a time of 1 hour, 33 minutes and 18 seconds, almost seven minutes ahead of the second place finisher and Myrtle Beach local, Maureen Thomas. Thomas finished with a time of 1 hour, 37 minutes and 21 seconds .  Rounding out the top three was, Rebecca Vines of Asheville, SC, with a time of 1 hour, 40 minutes and 59 seconds.
The 5K began 10 minutes before the half marathon at 7:00 AM as temperatures hovered at a cool 52 degrees. Kelsey Mae, from Conway, SC, finished first with an impressive finishing time of 20 minutes and 28 seconds. For the third year in a row, Becky Dougherty placed second in the 5K in 20 minutes and 38 seconds.  Kristin Cain, from Graham, NC, followed shortly after with a time of 20 minutes and 51 seconds.
The race ended on Main Street, where participants finished in true Divas fashion: with boas, tiaras and a refreshing Kinky Beverages® toast. Finishers were also rewarded with the new Divas® medal and Pandora® compatible charm. For those 21 and older, Traveler Beer was once again on hand providing Samuel Adams Summer Ale and Angry Orchard Hard Cider. The party didn't stop with ice cold beers and a finish line dance party. The official Divas® hotel, The Baywatch Resort, hosted a post-race pool party complete with special Divas cocktails, a dance party and stunning views of the rolling waves of the Atlantic Ocean.
Robert Pozo, the President and CEO of Continental Event & Sports Management, was pleased with another successful turnout and event in this lovely oceanside community.  "Coming back to North Myrtle Beach always feels like coming back home. From the city to police and medical departments, everything ran like clockwork. We are so proud to call North Myrtle Beach home for this very exciting and fun event weekend."
Next year's race will take place on Sunday, May 6, 2018.  Registration is now available on Active.com.  Full results are available at www.runlikeadiva.com/results.htm.
###
About The Divas® Running Series:
The Divas® Running Series is a group of female-inspired running events throughout the United States consisting of a Health & Fitness Boutique, a 5K road race and a half marathon race and finish line ex. Each of the Divas® events consists of additional activities geared toward women including a boa & tiara station, "bubbly" toast at the finish and fun entertainment along the course. Now in its eighth year, the race series received the highly coveted SportsTravel Award for Best Amateur Series or Circuit in 2012, 2013 and 2016. Event locations include Galveston, TX, North Myrtle Beach, SC, Chicagoland, IL, San Francisco Bay, CA, Toronto Island, Canada, Peachtree City, GA, DC's Wine Country, VA, Long Island, NY, San Juan, PR, and Temecula, CA.  For more information, please visit: www.runlikadiva.com.
About Continental Event and Sports Management Group, LLC:
With world-class running events such as the Divas® Running Series and the Myrtle Beach Mini Marathon, Continental Event and Sports Management Group, LLC is one of the premiere sports management companies in the United States. Robert and Gaby Pozo, founders and managers of Continental, have over 17 years of experience in the race production industry providing unparalleled events to participants and their host communities.
Contact:
Michelle Muller
Continental Event & Sports Management Group LLC
mmuller@usruns.com