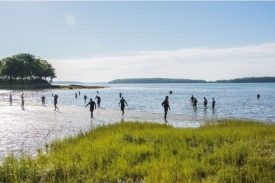 September 13, 2017 Freeport, ME – This weekend, North American Ironman Champion Angela Naeth will make her debut at the 2017 Lobsterman Triathlon, one of Maine's premier sporting events.  The 14th annual event will take place at Winslow Park in Freeport, ME on Saturday, September 16, 2017.
Known across the United States for its stunning course and its one-of-a-kind authentic Maine lobster bake, thousands of athletes and spectators are expected for this Olympic Distance race which draws sell-out crowds from more than 30 states each year.  Athletes can compete individually or as part of a team or relay and can race to raise funds for the Cancer Community Center as part of the LobsterJAM, a race within the race.   Registration is still available at www.lobstermantri.com.
In addition to winning the 2015 North American Ironman Championship, Naeth is an 11 time 70.3 Ironman champion, 25+ 70.3 podium finishes and 2-time Ironman Champion, where both victories were under 9-hours.
Last fall, Naeth launched IRaceLikeAGirl, a platform designed to provide opportunities for women of all ages/abilities to support, encourage and inspire one another in the sport of triathlon, promoting fitness, positive change, and connecting women across the world.  She'll be joined at the Lobsterman Triathlon with other members of the IRaceLikeAGirl community.
"We are thrilled to have Angela compete in the 14th Annual Lobsterman Triathlon," said Michael O'Neil, Event Director.  "This event gets better every single year, demonstrated by attracting one of the top athletes in the world. This is very exciting for the triathlon community in New England and especially, here in Maine."
An Olympic Triathlon is a standard triathlon distance. Athletes will complete a 0.93 mi swim, a 24.7-mile bike and a 6.2 mile run. The Aquabike will include the swim and the bike ride, but not the run.   All athletes are welcome to partake fully in lobster bake at the completion of the race.
"I've heard about the Lobsterman Triathlon for many years but have never had the opportunity to compete," said Naeth. "I'm really looking forward to bringing the IRaceLikeAGirl team to Maine and for the chance to eat lobster following the race!"
The Lobsterman Triathlon is proud to partner with CLIF Bar, Normatec, Drink Maple,Michael Phelps Skill Center, Gatorade, Center for Orthopaedics, Maine Shore Lobster Bakes, lobsterJAM, Cancer Community Center and sheJAMs
About ethos
e•thos |ˈēθäs| the characteristic spirit of a culture or community as manifested in its beliefs and aspirations.  ethos is a mass participation event organization created to bring athletes together through challenging and unique sporting events. For more information about ethos events and to register, please go to www.active-ethos.com.