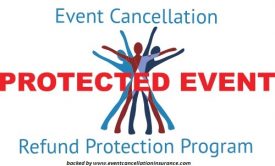 Event cancellation insurance specialist expands insurance program by partnering with leading endurance industry platform
COLORADO SPRINGS, Colo. (February 9, 2017) – Event cancellation insurance specialist, Nicholas Hill Group, Inc., announced a partnership today with Achieve's RacePartner division. The insurance specialist will extend their proprietary Event Cancellation Insurance Program to RacePartner, covering 100 percent of the events that utilize the event cancellation protection benefit.
The lack of refunds for canceled events has become both a public relations nightmare and a potential liability for race directors throughout the U.S. As municipalities and event venues grow increasingly concerned with their own liability exposure, they are frequently forced to postpone or cancel races when Mother Nature chooses not to cooperate on race day.
"Within the past few years, we have seen some of the country's largest events, as well as smaller regional races, cancelling due to forces entirely out of their control," said Nathan Nicholas, CEO of Nicholas Hill Group, Inc.
"These race directors find themselves in an unenviable position, having spent the majority of the registration fees on pre-race expenses.  Although they would like nothing more than to provide full refunds, the money has already been spent. Today, RacePartner has taken a significant step towards eliminating this concern for every event that chooses to use their platform for registration services."
With Event Cancellation Refund Insurance, registration companies who provide refund guarantees can now choose to purchase protection in case they must refund registrants of an event that is canceled due to adverse weather, natural disaster or terrorism.
"With the escalating price of entry fees, we feel that the traditional practice of "No Refunds" has become unacceptable for participants who expect to either get what they pay for, or receive a refund of their registration fees," added Nicholas.
Thanks to innovative registration companies, such as RacePartner, race directors now have a choice – ask their registration company to consider a refund guarantee, or switch to a company that already provides one.
For more information about the Event Cancellation Refund Insurance Program, please visit http://www.nicholashillgroup.com/eventcancellationinsurance, email info@nicholashillgroup.com or call 1-888-224-9054.
# # #
About Nicholas Hill Group, Inc. (NHG)
Nicholas Hill Group, Inc. (NHG) is a Colorado based insurance organization providing niche insurance products and services to clients throughout the United States.  NHG specializes in promoting active lifestyles, safe athletic events and responsible outdoor recreation by helping clients address their exposure through the design and ongoing management of innovative insurance products.  Clients include national governing bodies (NGBs), associations, membership organizations, affinity groups, 3rd party registration companies, ski resorts and a variety of sports related businesses.  We also proudly represent individuals who are pursuing their passion through an active, healthy lifestyle.
About RacePartnerTM 
RacePartner is the only company who uses research, digital marketing and registration solutions to grow your event. Recognized as a leader in the endurance industry, our researchers conducted the first-ever Millennial Running Study, highlighting the social and economic behaviors of millennials who participate in running events across the United States. RacePartner takes a data-driven approach to engaging, activating and converting your audience into participants. We are a division of Achieve, a research and marketing agency for causes. Racepartner.com
Nicholas Hill Group, Inc.
1765 South 8th Street, suite 800
Colorado Springs, CO 80905
Phone: 1-888-224-9054
www.EventCancellationInsurance.com
www.NicholasHillGroup.com