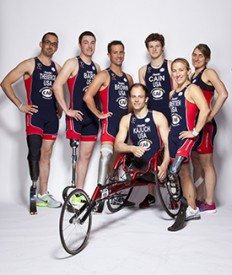 San Diego, Calif. – The Challenged Athletes Foundation ®  (CAF) announced today that more than 45 challenged athletes from around the world will participate in the Accenture Challenged Athletes National Championship on Sunday, July 14 in New York City. The competition, which for the second year will offer prize money to challenged athletes, offers a unique format that allows athletes from different disability classes to compete head to head to determine who are the "best of the best" male and female paratriathletes for 2013.
A world leader in creating athletic opportunities for individuals with physical disabilities, CAF is proud to partner with Accenture and Korff Enterprises to make this inspiring event possible as part of the Aquaphor New York City Triathlon. Among the participating athletes will be five members of the recently formed CAF Elite Paratriathlon Team.
"We are thrilled to see the growing interest in paratriathlon from both the challenged athlete and able bodied communities," said Virginia Tinley, CAF's Executive Director. "We look forward to continuing our partnership with Accenture and Korff Enterprises to present the second annual Accenture Challenged Athletes National Championship.  Last year, this event received rave reviews from challenged athletes – not only for the prize purse, but for the unique format that makes for a more exciting competition and enables the 'best of the best' to rise to the forefront."
The members of the CAF Elite Paratriathlon Team will compete in the event as their third official race of the season.  A "who's who" of USA and World Champions will be in the field, including: defending Accenture Challenged Athletes National Overall Male Champion Andre Kajlich (Tri 1); 2010 & 2012 USA National Champion Mark Barr (Tri 2); 2 x ITU World Championship Gold Medalist JP Theberge (Tri 5); 2011 and 2012 USA National Champion Patricia Walsh (Tri 6); and, 2011 USA National Champion Jamie Brown (Tri 5).
In the unique race format, all six paratriathlon classes will compete against each other for a $7,500 prize purse. To identify the winners, male and female "par" scores are developed for each of the paratriathlon classes.  The individuals who come closest to – or beat – these targeted times are declared the winners.  Prize money will be awarded to first ($1,250), second ($1,000), third ($750), fourth ($500) and fifth ($250) place overall male and female finishers.  The par scores for each category are posted at www.challengedathletes.org/AccentureNationalChampionship.
"Accenture is proud to support the Challenged Athletes Foundation and their commitment to empowering people with physical challenges," said Laila Worrell, Accenture's New York Metro managing director. "We are pleased to sponsor this event and commend the high performing athletes who participate in this competition."

For information, visit www.challengedathletes.org/AccentureNationalChampionship.
Challenged Athletes Foundation
The Challenged Athletes Foundation® (CAF) is a world leader in helping individuals with physical challenges get involved – and stay involved – in sports. CAF believes that participation in sports at any level increases self-esteem, encourages independence and enhances quality of life. Since 1994, close to $47 million has been raised and more than 8,200 funding requests from challenged athletes in all 50 states and dozens of countries have been satisfied. Additionally, CAF's outreach efforts reach another 60,000 individuals each year. Whether it's a $2,500 grant for a handcycle, helping underwrite a carbon fiber running foot not covered by insurance, or arranging enthusiastic encouragement from a mentor who has triumphed over a similar challenge, CAF's mission is clear: give those with the desire to live active, athletic lifestyles every opportunity to compete in the sports they love. To learn more, log on to www.challengedathletes.org or call 858-866-0959.