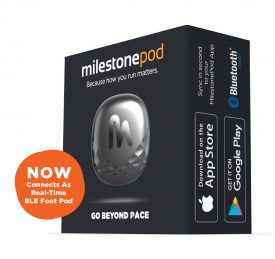 Now the MilestonePod running tracker can send data to compatible 3rd party apps and watches
Columbia, MD – July 13, 2017 – Milestone Sports, developers of the MilestonePod, announces the general release of its first real-time firmware. This gives users the option to connect to compatible apps and watches to see Pod data while they run. The feature follows the standard BLE profile that includes cadence, stride length, pace, distance and duration. However, not all apps or watches are built to show all available metrics.
The current version of the MilestonePod (released August 2016) is already built real-time capable. Users just need the firmware upgrade to enable the feature. Fitness apps or watches need to support Bluetooth Smart external sensors. Devices that are ANT+™ will not be compatible.
"It was the fast-growing virtual running experiences like RunSocial and Zwift Run that really set us on this real-time path" said Milestone Sports CTO, Meir Machlin. "This past winter, while working to make our own App real-time, we were suddenly flooded with requests from Pod users asking for the ability to use their Pod on Zwift."
By January, a real time firmware was ready for beta. Once word got out, this by-request-only group quickly swelled to over 1,000 runners.
"We are indebted to our beta testers," continued Machlin. "As a small company, we depended on these testers, spread all over the world, running with all sorts of devices. Their dedication, patience and feedback made this launch possible."
Compatible watches include Polar (M400/M430/V800), Suunto (Ambit 3/Spartan) and the newest player in the BLE Smart market, Garmin (Forerunner 935/Fenix 5). Compatible apps include Map My Run, iSmoothRun and Strava.
The new Firmware gives Pod users additional benefits beyond real-time, including increased sync speeds, reduced risk of sync errors and increased battery life.
The MilestonePod ($24.95) is a no-fuss running tracker built to help users improve performance, stay healthy and monitor shoe life. The Pod runs on a replaceable coin battery and does not need a GPS signal. Users sync their Pod with a free App to view performance data and foot-based metrics such as cadence, foot strike and rate of impact.
About Milestone Sports
Milestone Sports, Ltd. is focused on connecting retailers and brands to consumers through its Wearable Marketing Platform (WMP). The platform collects comprehensive data from a low-cost foot pod that syncs to a mobile device. This rich, real-life data results in meaningful, personal, and valuable direct marketing: the future of retailer and brand loyalty. For more information, visit www.milestonepod.com. 
PR Contact
Nancy Rowe | Milestone Sports | nancy@milestonepod.com | 267.273.4729