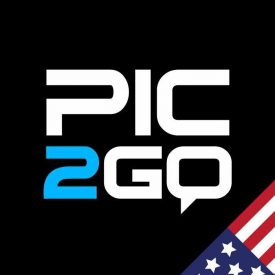 February 10, 2017, Baltimore, MD & Phoenix, AZ  — The Mesa-Phx Marathon announced today that it is partnering with Pic2Go USA to become the first major US marathon to provide its athletes with both free race photos and custom race videos. Pic2Go makes it easy for participants to publish their photo and video content to social media, providing events and sponsors with millions of organic social media impressions.
While an increasing number of marathons are accepting the industry-wide shift of providing free photos to their athletes, the Mesa-Phx Marathon is the first US marathon to offer Pic2Go's Performance Photos, which can (if the runner chooses) share athlete data on each image including the distance and time from the start, along with the runner's pace, location on the route map, and race information.
What's even more exciting for the 2017 Mesa-Phx Marathon, however, is that participants will also have the opportunity to share custom performance videos. This move towards providing custom race videos at a major marathon demonstrates the Mesa-Phx Marathon's commitment to being a dynamic, innovative race – which has fueled its rapid growth over the past few years, even through a challenging period for marathon distance events.
"We feel that the marathon should be representative of the culture and community we represent," said Jamie Campbell, Race Director for the Mesa-Phx Marathon. "We wanted to take a more forward-thinking approach and give back to our runners. This cutting-edge technology is going to take the running community by storm!"
With Pic2Go Performance Video, a custom edited personal race video is automatically published to each runner's Facebook page.  The video includes action clips of the runner, photos captured throughout the course, and even the runner's name, finish time, and performance data throughout the course.
This year's Pic2Go photo sharing will be sponsored by BMO Harris Bank, who will share branded content within each video, and reach a huge audience through Facebook. This is especially effective now that Facebook's algorithm gives priority to video content posted by Friends, versus branded content posted through Facebook Ads or Sponsored Posts. The content shared through Pic2Go appears in participants' News Feeds organically, giving sponsors exposure to a potentially untapped market. After the event, Pic2Go provides analytics to share with sponsors including number of albums and photos shared, impressions, comments and likes on branded content.
About the BMO Harris Bank Mesa-Phx Marathon
The BMO Harris Bank Mesa-Phx Marathon began as an idea of long time runners in the hills and mountains just east of the Phoenix Valley. A group of elite runners were assembled to design the perfect gradual descent into the Valley of the Sun. The race founders knew that many friends shared the idea that runners wanted and deserved to have a race which focused on a giving the participant the best on course and finish experience the industry offers. Race founders Brad and Kimberly Arnett are committed to education and wanted a way for the running participant to help educate young aspiring runners. Brad and Kim also believed that runners would be as passionate about education as they were about running. Thus the Mesa-Phx Marathon was created to serve a three fold mission: educate aspiring runners by donating all profits to the Mesa-Phx Marathon Foundation, give running back to the runner, showcase the Phoenix East Valley to the world. In addition, the elite runners believed it was critical for the marathon course to have an overall net decrease in elevation, and, of course, be a Boston qualifier.
About Pic2GO
Established in 2010, Pic2Go is a worldwide solution provider for Sponsored Race Experience Sharing technologies, providing endurance event participants with free branded photos, videos (and more…) to instantly share on social media. Pic2Go's Patent Pending 2D barcode photo tagging and social sharing technology is used by major events and sponsors in more than 30 countries, offering an innovative and effective channel to maximize brand engagement, social reach, and fan acquisition. For more information on Pic2Go opportunities in the USA, visit www.Pic2Go.com and on Facebook, Twitter and Instagram @Pic2GoUSA.
###