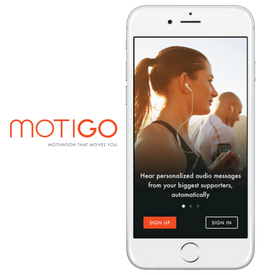 Hospital Hill Run and H-E-B Alamo Run Fest Choose App to Engage and Entertain During 2018 Events
Denver, Colorado – Feb 12, 2018 – Motigo, the pioneer in delivering personalized audio to athletes during their training and races continues to partner with leading events as the focus on authentic athlete engagement has never been more important to the running industry. With a focus on digital innovation and community, the 2018 Hospital Hill Run and the H-E-B Alamo Run Fest will utilize the Motigo app to deepen their connection with athletes and their community on race day and leading up to the event.
The importance of digital innovation and engagement remains a key theme at this week's Running USA Annual Conference, and both events are embracing the ability to create personalized and memorable experiences for their runners, drive lead gen by engaging with spectators and supporters, and unlock new mobile 1st activations for their sponsors.
Still in its early days, Motigo has already proven the ability to engage 10-20% of participants, with those runners averaging 12-17 personalized audio messages on race day – coming from 4 to 9 friends and family located all over the world, not just along the course. This massive social amplification is possible while currently working independently of an events registration platform or its native apps, and in conjunction with a runners preferred music or fitness tracking app, making it an easy add on for today's connected athlete craving personalization.
For its 45th anniversary event this June 1-2, the Hospital Hill Run, the oldest race in Kansas City and one of the five oldest half marathons in the United States, will bring personalized inspiration and entertainment to runners across multiple distances throughout its challenging hilly course which is loaded with landmarks. A mix of on-course guidance, peer to peer cheers, and fun facts will make the anniversary event a uniquely memorable day.
"We are very excited to add to the participant experience," said Beth Salinger, Race Director of the Hospital Hill Run.  "The Half Marathon course is challenging, adding cheers, fun facts, history and more will make it the day fly by!  We are also excited to offer Motigo as another opportunity for our sponsors to engage with our participants, creating an even more memorable day!"
The H-E-B Alamo Run Fest, which takes place on April 15th, also plans to create audio experiences for its 5K, 10,000, and Half Marathon as each course passes along wonderful Texas history and culminates with an exciting finish inside the iconic Alamodome, home of this year's Final Four Men's basketball tournament. The event organizer, Make a Difference Events, is passionately focused on building a healthier community and believes the peer to peer cheering will play a key role in motivating and inspiring athletes to have their very best race day, while also pointing out many of the Alamo City's historic landmarks along the race routes.
"We're excited to be the first event in San Antonio to include Motigo as part of our runner's experience", says the event's Director, Carl Owens.  "Not only will participants be cheered on and supported by their friends and family who use Motigo to keep runners motivated in their push for the Finish Line, we're also very excited to be able to use the app's features to point out many of the City's iconic landmarks along our 'one-of-a-kind' race route.  As an Official event of San Antonio's "SA 300" Tricentennial Celebration, runners will be treated to short, historical narratives as they pass by some of the many points of interest that are part of the Alamo City's long and colorful history. This also includes a number of locations on the route that are part of why the City is also known as 'Military City, USA'. We're certain that Motigo will elevate our runner's overall enjoyment and appreciation of their race experience here even more", added Owens.
Both events will also leverage the app to create pre-race virtual run experiences, which according to Motigo Founder and CEO, Dan Nagler, allows the events to further deepen and extend their relationship with their running communities. "We are in a world where events need to think about how to remain relevant and add value during the other 364 days of the year, and at Motigo we are just getting started with some of the virtual capabilities we can provide to our event partners and the brands who want to reach athletes in-the-moment."
Runners participating in the Hospital Hill Run or H-E-B Alamo Run Fest can download Motigo in the App Store and via Google Play.  From there, they can select their event, choose their race distance, then use the social sharing tools to easily invite their friends and loved ones to cheer them on – by using the apps, or with the record cheer option on the Motigo website. 
About Motigo
Motigo is a mobile based, social application that connects runners to their biggest supporters.  Created by a Colorado husband and wife team, Motigo delivers Emotional Fuel™.  Its proprietary personalized audio messaging creates a timely and powerful connection between runners and their friends and family via personal, pre-recorded audio messages, which runners automatically hear at selected intervals throughout their event.  The app, currently available for Android and iOS, helps runners overcome the mental and emotional challenges associated with running-event participation, while enhancing the experience for all.  From consumers to non-profits and race sponsors, everyone involved in running wins with Motigo – now available in the App Store and on Google Play.  For more information, visit getmotigo.com. Like them on facebook.com/getmotigo, follow on Twitter @motigoapp and Instagram @motigo. 
About Hospital Hill Run:
The Hospital Hill Run began in 1974 with 99 athletes paying a $1 registration fee to run a 6.8-mile course at Crown Center. Today, it has evolved into a weekend event that hosts thousands of athletes over two days and three different event distances. The 2018 event will be the 45th annual race and includes three distances: a 5K on Friday night, followed by a 7.7-mile and a half marathon on Saturday morning. Those who wish to challenge themselves further can compete in both the 5K on Friday night and either the 7.7-mile or half marathon on Saturday, called the Hospital Hill Run Re-RUN.  All events begin and end on Grand Boulevard directly in front of Crown Center.  A two-day health and fitness expo at the Crown Center Exhibit Hall, a Pasta Party, and two post-race parties open to all will round-out race weekend
About H-E-B Alamo Run Fest:
Now in its sixth year, the H-E-B Alamo Run Fest is San Antonio's premier 'home grown' Half Marathon and Running Festival. The event, which consists of its 'flagship' Alamo Half as well as other distance events that include the Alamo 10,000, Alamo 5K, 'Ultra-Accessible' Run Walk & Roll 1K and Alamo Health Expo continues to grow in reputation to help the City's ongoing quest for healthier lifestyles.  It is also finally helping move the City towards having its own large, locally produced running event.  Part of the event's uniqueness is its 'Inside-the-Alamodome' Finish Line and the fact that for the fourth year now, 6 miles of its Alamo Half's race route passes through historic Fort Sam Houston.  The event is produced by Texas-based Make a Difference Events. For additional information contact: Info@AlamoRunFest.com or call 210-247-2221
For Media or Partnership Inquiries contact Dan Nagler:
Motigo
dan@getmotigo.com
516.902.8288