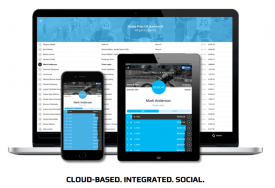 SAN FRANCISCO – November 24, 2015 – Lapio, Inc. providing powerful race management and timing software, announces new subscription model pricing that gives events from small to large access to cutting edge race technology at affordable price points for all.
Not all races are built the same but all races should be a premier event. With Lapio, all subscription plans include the ability to offer real-time, live streamed results. With this subscription model, races can then choose from additional innovative features that enhance the race experience for participants and spectators while working within the race budget.
What makes Lapio different is flexibility within all aspects of the software:
Pricing options to allow race directors and timers the ability to choose the best fit for their budget.
Flexible registration platform providing ability to collect the data you want in the format you need.
Software is hardware agnostic; meaning that it's compatible with many different timing hardware solutions.
Timing software built for timing all types of races including multiple timing points, point systems and lap races.
"We believe that races small to large should be able to provide an awesome race experience for participants and spectators," said Karen Lewis, COO, Lapio, Inc.
"We spent a lot of time researching registration and timing software. Lapio was far superior than anything we looked at. The registration platform gives us the flexibility to setup the event exactly how we want. In addition, the registration data ties directly into the timing software which has saved us time and money. We love using Lapio and even better is that we know our participants love it too," said Cimarron Chacon, Race Director, Gro Promotions.
"The Lapio system is not only a huge leap forward for timing software, it's also a breakthrough for race directors looking to super-charge their races' social media presence," said Sam Fiandaca, Race Director, Brazen Racing.
From now until December 31, 2015, sign up for Lapio's premium subscription plan with annual payment option and receive Lapio's custom results and tracking app at no additional cost.
Click here to learn more about Lapio's subscription model: http://www.lapio.com/pricing/
ABOUT LAPIO, INC.
Lapio is the go to software solution for race organizers and timers who want to provide awesome race experiences for participants and spectators. Our software combines race management, live streamed results, social engagement, photo sharing, and mobile into one, easy-to-use, integrated solution. We are passionate about endurance racing and passionate about technology with innovation at the heart of our solution.  Headquartered in San Francisco, Lapio software has timed nearly 3,000 races and more than 900,000 participants worldwide. For more information, visit www.lapio.com or email hey@lap.io.