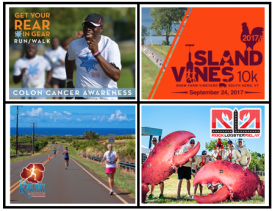 Boston, MA, February 1, 2017 – Kukimbe LLC., the first comprehensive mobile application that puts races at a runner's fingertips, today announced the re-launch of the company's website adding functionality for race organizers.
Kukimbe uses geo-location technology to connect runners with races of all types and will now allow event organizers to submit race details directly through the website in order to have their race added to the Kukimbe app.  Through the new website, event organizers also have the option to customize their race imagery and branding within the app.
"Creating custom race cards with an image and race logo makes a race stand out from the rest," said Kelly Poyas Gerard, Co-Founder of Kukimbe. "Event organizers can also boost interest in a race by providing a unique deal or discount code for Kukimbe members. We are excited to offer a low cost option for event organizers. Customizing a race card costs as little as $25, an affordable price for race directors on a tight budget."
In addition to adding events and customizing race cards, event organizers can utilize Kukimbe's social media network and weekly email blast to market their events.
For more information about the Kukimbe app or to submit a race visit www.kukimbe.com
About Kukimbe
Kukimbe is the first app of its kind that uses geo-location technology to connect runners with races across the United States. Runners can easily register for races, add races to their calendar and share with friends.  Kukimbe's Podium provides a platform where runners can shop for the products they love at a discount.  Ultimately, the app will include a feature in which runners can earn points for completing races which will be redeemable for athletic gear or race registrations.
Contact
Kelly Gerard, Founder & CEO
Kelly.Gerard@kukimbe.com
617-694-9735