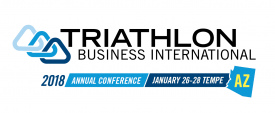 January 26-28, 2018 ~ Tempe, AZ ~ Where the Business of Triathlon Gets Done
AUSTIN, TX (November 30, 2017) – Triathlon Business International (TBI) today announced the topics for the Coaching and Club track, the first of three curricula tracks, for the 8th Annual TBI Conference, January 26-28, 2018 at the Mission Palms Resort in Tempe, AZ.
Coaching and Club track sessions include:
Triathlon Clubs and Coaching Models
Athlete Retention
New Customer Engagement
Virtual Triathlon Clubs and Coaching
Marketing Your Club or Coaching Business
The track topics were developed by a committee of triathlon coaches and club directors/members. The committee is chaired by Jesse Kropelnicki, QT2 Systems, LLC, and comprised of Michael Ricci, D3 Multisport, Inc.; Andy Clark, Alien Endurance; Cliff English, ASU Women's Triathlon Coach; Jeff Scull, Edge Triathlon; and Ian Murray, LA Tri Club Head Coach.
Through committees for the coaches/clubs, retail/manufacturers and race directors tracks, TBI president Dan Empfield put out the call for "user-generated" content so that the conference would be developed by people who are most involved in the sport, and who best know and understand the trending topics.
"Business today depends on how well you manage community," said Empfield. "That's the word. Community. Whether you're a church pastor, a race organizer, a politician or a bike shop owner the size and ardency of your community of adherents grants or withholds success. Energizing and growing a community is what strong, effective clubs and coaches do, and that's what this curriculum will deliver."
Curricula for the Retail/Manufacturers and Race Directors tracks will be announcing in the coming week.
TBI conference details and online registration are available at http://www.triathlonbusinessintl.com/2018-conference.html
Conference registration is open (http://bit.ly/TBIConf)
Current Members
$475 through December 31, 2017 (This is an "all-in" fee; no additional charges will be added at checkout)
$575 from January 1, 2018 to the Conference
Non-Members
$575 through December 31, 2017 (This is an "all-in" fee; no additional charges will be added at checkout)
$675 from January 1, 2018 to the Conference
Nonmembers will have the opportunity to join TBI during the Conference registration process. If you join TBI at registration, you will receive the $100 discount of a current member. Membership benefits.
Conference partners include: ACTIVE (technology); Headsweats (headwear); MPA Event Graphics (corporate); Ashworth Awards (corporate); FinisherPix (corporate).
Sponsorship and Expo opportunities can be received by emailing Triathlon Business International.
About Triathlon Business International
Triathlon Business International is an industry organization dedicated to promoting the sport and the business of triathlon. Founded by a coalition of industry leaders, Triathlon Business International advocates for the interests of triathlon businesses, provides educational and informative programs, and encourages increased participation in the sport. For more information, please visit www.triathlonbusinessintl.com.
Follow TBI on Twitter and Facebook for the latest updates on the 2018 conference and information on our members. If you haven't signed up for the TBI newsletter, you can do it on the home page of the TBI website.
# # #