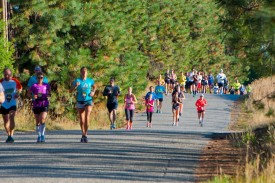 Destination Races' 4th Annual Race Draws Runners from Across Canada and US
Sonoma, CA – Destination Races, producer of the popular Wine Country Half Marathon series, presents its fourth running of the Kelowna Wine Country Half Marathon on September 4th. Runners and wine enthusiasts across Canada and the United States will descend on the Okanagan Valley for a Labor Day weekend of wine-themed activities and a scenic half marathon in this year-round recreational paradise in British Columbia, Canada.
The race starts at 7:00 a.m. at Vibrant Vine winery with magnificent views below of Okanagan Lake and Kelowna. The course leads runners past vineyards, fruit orchards, and farms on the East Bench, before dropping down onto the Mission Creek Greenway and running along the lake for the final seven kilometers. Once through City Park and Stuart Park, participants reach the spectator-lined finish on the promenade adjacent to the Grand Okanagan Resort. From start to finish, the course is one of North America's most scenic and varied.
"I'm fascinated by the diversity of the terrain, the wines, and the natural beauty here," said Destination Races founder and Race Director, Matt Dockstader. "The course is spectacular with all its variety and it showcases the best of the area."
Waterfront Park and the Delta Grand offer a picturesque setting for the signature post-race Wine & Music Festival, where local producers pour wines and serve food as participants lounge on the grass or beach listening to live music. Each participant receives a race shirt, a new finisher's medal, and an etched wine glass for tasting at the festival. The top three finishers in each age group win a bottle of wine, and the top three overall win a magnum, a Fortessa plate trophy, and cash.
Jim Lawrence, a near-death cardiac survivor, has run the race every year since its debut in 2013 and raves about his experiences. "I have participated in many half marathons across the United States and Canada, and the Kelowna Wine Country Half Marathon is by far my favorite. It's a well-organized, beautiful race. The best out there." Jim, who resides in Kelowna, looks forward to the opportunity again. "I feel very fortunate to run," he says, "I'll never take it for granted after what I have been through."
The pre-race Expo will be held on Friday, September 3rd at the Delta Grand Okanagan Resort & Conference Center in Kelowna. The Expo features race packet pickup and product sampling from health and wellness exhibitors, plus exclusive deals on race apparel and gifts, and a race orientation seminar. The Kelowna Yacht Club will host a special pre-race dinner on Saturday, September 3rd from 6:30 p.m. to 8:30 p.m.
The Kelowna Wine Country Half Marathon and Destination Races partner with a number of local and national non-profits, including the Okanagan Athletics Club, the International Children's Games, and the Heart and Stroke Foundation. Registration is still open for this event. For more information and to register for the race and other special events, visit: http://www.destinationraces.com/runbc
About Destination Races:
Destination Races, based in Sonoma, California, is the pioneer producer of the Wine Country Half Marathon Series. Founded in 2004, the Wine Country Half Marathon Series consists of seven races across notable wine regions in North America, offering unforgettable experiences on and off the course, including the popular post-race Wine and Music Festival. Runners travel to participate in these boutique destination races designed to feature the area's top wineries and other attractions. The race series draws elite runners and food and wine enthusiasts who share their common bond of running and celebration. Current races include Santa Barbara, California; Northern Virginia; Napa-to-Sonoma, California; Oregon (Willamette Valley); Kelowna, B.C.; Healdsburg, California; and Woodinville-Redmond, Washington. For more information on the event series and Destination Races, visit DestinationRaces.com.
For more information, contact:
Kira Bundlie
Community and Media Relations Director
Destination Races
1224 Sperring Rd.
Sonoma, CA 95476
kira@destinationraces.com
707-933-1769