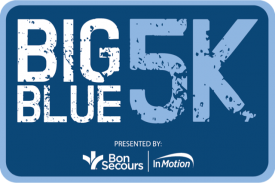 VIRGINIA BEACH – J&A Racing in partnership with the Old Dominion Athletic Foundation (ODAF) hosted 2000 race participants in the 4th Annual Big Blue 5K and 1K presented by Bon Secours In Motion on April 15, 2017. This spring event was the kickoff to a full day on campus, including the 49th Annual Toyota Charity Bowl and the ODU Spring Football Game, all located at Foreman Field at S.B Ballard Stadium in Norfolk, Virginia. The race course showcased different locations throughout ODU, taking runners and walkers through campus with a unique finish on ODU's state-of-the-art game day home of the football Monarchs, Foreman Field at S.B. Ballard Stadium. Participants and their families were invited to celebrate their finish at a tailgate party immediately after the race, and were also invited to attend the ODU Spring Football Game later in the day.
A new addition to the race this year was the Pump and Run, which allowed race participants to incorporate a strength element into their 5K.  Calculated based off of age, weight and gender, participants were able to bench press a predetermined weight for the chance to deduct time from their 5K.  This inaugural event attracted over 200 participants and is expected to grow in years to come.
"The school spirit, great finish on the 50-yard line and the ability to give back to Old Dominion Athletic Foundation are all things that make the Big Blue 5K one of my favorite events of the year. Go Big Blue!" stated J&A Racing co-owner and ODU Alum, Amy Frostick.
Big Blue 5K presented by Bon Secours In Motion results: https://results.chronotrack.com/event/results/event/event-27827
About J&A Racing
J&A Racing is a nationally recognized race management company based in Virginia Beach, Virginia with a mission to promote and support healthy lifestyles and the sport of running through the development and growth of their running events throughout Hampton Roads. Since 2003 when J&A Racing owners Amy and Jerry Frostick first took over the Shamrock Sportsfest, the Yuengling Shamrock Marathon Weekend has become one of the most popular events in the country, growing from 3,000 participants to a record 30,000 in 2015. J&A Racing's portfolio of fun, festive and family oriented events for runners at all stages in life has expanded to include the Halloween themed Anthem Wicked 10K and Old Point National Bank Monster Mile, the Big Blue 5K presented Bon Secours In Motion, the Christmas themed Great Outdoor Provision Co. Surf-n-Santa 5 miler, the Crawlin' Crab Half Marathon & 5K, the Chartway Norfolk Harbor Half Marathon and We Promise Foundation 5K and the Corporate 5K. For information on all the J&A Racing events, please visit http://www.jandaracing.com/.
About ODAF
As the sole fundraising vehicle for ODU Athletics, ODAF provides a channel through which fans, alumni and the community can partner with coaches and student-athletes to provide the resources necessary to compete for conference and national championships. In its 50th year of existence the ODAF is reaching record marks in both membership and contributions raised. While pleased with the progress made over the past fifty years, the goal remains to fully fund the athletic scholarship bill for athletics. In order to continue the growth of ODU Athletics, ODAF must continue to provide the resources necessary to drive future success. For more information on supporting ODAF's Championship Effort please call 757-683-6963 or visit www.olddominionaf.com.