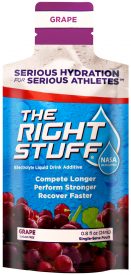 The Right Stuff® is now avaliable in Grape too
Based on extensive numbers of requests, we are pleased to introduce New Grape version of The Right Stuff®: It is a new flavor of the same highly effective NASA-developed, blend of electrolytes, which as always, contains no sugar. This new variety, like all the others, is NSF Certified for Sport.  New grape is made with all-natural flavors so it tastes like the Concord Grape used in jam.
Numerous published studies (links can be found on our website) show that The Right Stuff is far superior for:
Combating cramps, muscle fatigue, light-headedness and headaches caused by heavy sweating, dehydration and electrolyte loss.
Increasing endurance by over 20% or more than any other NASA-tested formula and
Protecting athletes' bodies from overheating during times of intense exertion and in high heat settings
Plus, NASA studies show that it is also a powerful aid against the negative effects of Jet Lag and High Altitudes!
All versions of The Right Stuff are NSF-Certified for Sport and so they are clear from all banned substances, heavy metals and other adulterants.
In addition to endurance athletes (cyclists, runners, Triathletes, Adventure Racers etc.), High Schools and Colleges across the U.S., pro teams (NFL, NBA, MLB, NHL and MLS) and Olympians along with first responders (firefighters, military) and industrial workers (construction and paving crews, farmers, parcel delivery etc.) all have integrated The Right Stuff into their regimens.
The Right Stuff is not just another sports drink; it is serious hydration for serious athletes™. It is especially valuable for your big crampers, heavy/salty sweaters, and those working to improve their endurance or deal with high heat situations.
Questions:   720-684-6584 or www.TheRightStuff-USA.com