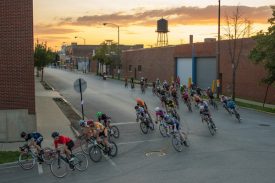 2018 dates - July 20-29
Chicago, IL – The 2018 Intelligentsia Cup powered by SRAM announced a shift in the dates for the seventh edition of the series, moving a week later in July to better position itself among similar national calendar events. The new dates will be July 20-29, 2018 with ten days of continuous road racing events.
"We considered many variables in our decision to move a week later," said managing partner Tom Schuler.
"One of those was our dates relative to other national-caliber road events in the U.S. and Canada – in particular other criteriums. Our hope is that the new dates will allow more professional and domestic elite teams to include our series in their 2018 racing plans."
The 2017 series was the sixth edition and saw an increase to ten continuous days, with seven criteriums and three road races.
The increase in racing days resulted in a 29% increase in ridership numbers, with racers coming from all across the country and 16 foreign countries.
In the men's pro omnium, Julio Padilla (Arapahoe Resources) was locked in a fierce battle with Brandon Feehery (Crit Life. After ten days the two were tied on points after the final race, requiring a tie-breaker using first-place finishes. The women's pro omnium saw Marlies Mejias (Weber Shimano Ladies Power) took the overall ahead of Peta Mullens (Hagens Berman Supermint).
About the Intelligentsia Cup p/b SRAM
Founded in 2012 as the Prairie State Cycling Series, the Intelligentsia Cup brings competitive bicycle race to the Chicago metro area, featuring top-level professional and elite amateur athletes. Each race venue includes exciting racing complemented by healthy and fun family activities, a lifestyle expo, as well as food and beverage from local vendors. For the complete schedule and more information, please visit: www.intelligentsiacup.com
For more information, please contact:
Mark Zalewski
Marketing Director
+1 630 890 0209
mark@prairiestatecyclingseries.com
Marco Colbert
Executive Director
+1 847 644 0277
marco@prairiestatecyclingseries.com
###