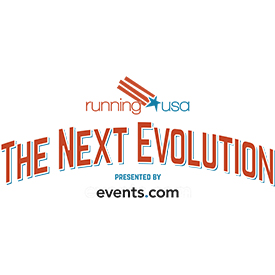 Build Stronger Partnerships to Grow Race Numbers and Customer Awareness, June 29-30 in Denver
WICHITA, Kan. – One of the most challenging tasks for every race director is building a deep and valuable roster of partners and sponsors. As sponsor activation and runner expectations shift, we're excited to announce the 2016 Sponsorship Landscape panel at Running USA's The Next Evolution presented by Events.com, June 29-30 in Denver.
The relationship between race organizers and sponsors has changed over the past decade. Sponsors no longer just throw money at an event, rather they want to see their investment put to work, while race organizers are starting to realize the value of harnessing their sponsors' reach, which helps them grow their events.
It's an evolving two-way relationship.
In our 2016 Sponsorship Landscape panel, Troy Schooley of the DICK'S Sporting Goods Pittsburgh Marathon and P3R teams up with veteran endurance and Olympic marketing veteran Pete Cohen of MKTG to discuss how the sponsorship dynamic has changed in recent years, as well as how race directors and brands can form stronger short-term and long-term relationships.
"Race organizers and brands need to be on the same page when it comes to growing a partnership that's valuable to both sides, as it's no longer about just putting your logo on a banner at the finish line," said Christine Bowen, Running USA VP of Programming and Operations. "Ultimately, partnership expectations have shifted quite a bit over the past five years and we're excited to have Troy and Pete speak to those changes."
In addition to the panels, special sessions will revolve around digital marketing, operational and municipal relations, and the current sponsorship landscape. The well-rounded sessions give attendees a unique perspective on the challenges facing the industry and offer key solutions to build stronger events and richer relationships.
Other key features of The Next Evolution include a speed networking session and cocktail reception on Wednesday, June 29 and a networking cocktail reception to cap the event on Thursday, June 30.
For more information on The Next Evolution and the event program, please visit: http://www.runningusa.org/running-usa-next-evolution.
About Running USA
Running USA is a tax-exempt, not-for-profit organization devoted to improving the status and experience of distance running and racing in the United States through collective marketing and promotions, information and communications within the industry and to the national media, services to events and industry members, and the development of American world class stars. It seeks the advancement of the sport and the provision of value to each of its members' events and businesses. For more information, visit RunningUSA.org.
Contact
Running USA
Scott Bush – Director of Communications
503-704-7169
scott@runningusa.org