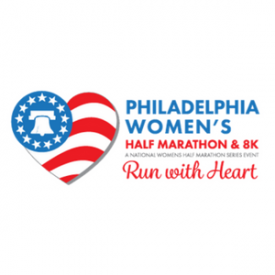 Registration Opens on May 9, 2017 with Entry Slots Starting at $1.00!
PHILADELPHIA – (May 8, 2017) – On Saturday, October 7, 2017 the City of Philadelphia will play host to the newest community event for female runners of all ability levels with the inaugural Philadelphia Women's Half Marathon and 8K presented by Philadelphia Runner and Premier Event Management (PEM). This unique format offered to women only, will turn the streets of Philadelphia into a show of force as the fitness movement continues to expand because of their involvement! The event will feature two competitions for all ability levels of running or walking in either the Half Marathon or 8K. The one-day event will showcase a $5,000.00 prize purse for the top female finishers in the Half Marathon while a $1,500.00 prize purse will be up for grabs to the top female finishers in the 8K competition.
Registration opens on Tuesday, May 9, 2017 at 10:00am EST and will feature our special unique discounted early entry slots beginning at just $1.00 for both the Half Marathon and 8K! Entry slots open at $1.00 each and move up from there in $5.00 increments through the entire process. As selected slots are sold out at each price, the Active.com system will move to the next offered price in the system. This provides athletes with the opportunity to register at some crazy price breaks never before seen in the running industry! Premier Event Management (PEM) will discount over $30,000.00 worth of entries to kick off this inaugural event!
"The City of Philadelphia has been home to the some of the greatest fitness events! This is our way to give something back to enhance this community of female runners," stated PEM President and CEO, Bill Burke! "It is our intention to showcase the active female spirit in each participant that drives them to achieve great things through running for their own personal goals and our partners. Join us for what promises to be the newest and coolest event in the City of Philadelphia!"
Please visit www.PhiladelphiaWomensHalf.events for more information.
About Premier Event Management
Premier Event Management (PEM) is America's preeminent organizer and race director for multi-sport and endurance racing events from coast to coast. Established in 1993, PEM owns and manages more than 25 of the most widely recognized triathlon, running, cycling and endurance events in the world including IRONMAN® 70.3 New Orleans, New York City Triathlon, Escape from Alcatraz Triathlon, The Nation's Triathlon, Naperville Sprint Triathlon, Philadelphia Triathlon, Des Moines Triathlon and the Naperville Women's Half Marathon. In addition to the production of wholly owned events, New Orleans-based PEM also provides all services required for new or established events, from consulting services to complete turnkey productions. For more information visit www.pem.events.