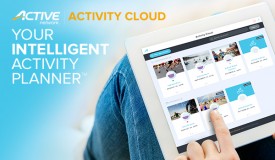 If you feel like everywhere you turn, all you hear about is, "data, data, data," it's for very good reason. Key insights into your event, the events your peers are organizing and the endurance industry at large will have a huge effect on the performance of your event. More relevant data absolutely could be the difference between a "meh" event and one that knocks it out of the park, meeting your revenue targets and delighting customers.
With the industry growing bigger every year, competition is increasing as everyone pulls from the same pool of customers. The problem for a lot of race directors is lack of access to data that really matters, like where are your registrants coming from; which marketing tactics are actually resulting in more registrants and how their event is performing relative to events of similar sizes and in similar locations.
ACTIVE Network created our newest software solution, Activity Cloud, to answer those questions for our customers. ACTIVE Network Activity Cloud® aggregates data from large and small events, adds third party data, like government census figures, and generates insights from algorithms based from over 16 years of endurance industry experience. We've learned that the data points we offer are becoming part of our race directors' tool kits, allowing them to improve their events.
Now, while there's tons of potential data, it's important to not just have lots of information, but relevant information to make the difference in how you're organizing your events. Look for these four data sets to really revolutionize your next event:
1. How does your event compare to similar events? This is the million-dollar question. It's tough in the endurance industry to create a benchmark with which to truly measure your performance. That's why year-over-year growth numbers are only so helpful. You'll want to know what your peers are doing for a number of reasons, but the most immediate is to determine how many other events are vying for the attention of your potential registrants.
If you find out that six other 5Ks are taking place the same weekend as your 5K, and those events are already 50 percent full while you're only at about 15 percent, then you'd probably think pretty hard about whether you've picked the right weekend. Without that kind of benchmark data, you might struggle and struggle to fill your event, wasting tons of marketing dollars in the process, without ever knowing why your event hasn't taken off.
2. Who are the people interested in my event (and where are they located)? Theoretically, race directors have always had access to who their registrants were, and where they lived. After all, registrations typically ask for a participant address. But, realistically, who was sitting down to record, organize and map that participant data? One of the most-loved features of Activity Cloud is the ability to see a map of where your event is pulling participants. This incredibly valuable information can help you better geo-target your digital marketing, not to mention schedule packet pick-up in a convenient location and create traffic signage.
The feature also includes a second map of social interest in your event, so you can see—in real-time—who's chatting about your event on social media, and where those conversations are concentrated. You can also figure out who's looking for your event on ACTIVE.com. With information like this, there's tons of ways to capitalize on interest and reel in the registrations with smart, targeted emails, geo-targeted social media posts or even special discount codes.
3. How much money will I make? How many participants will run my event? This is one of the biggest gambles, even for seasoned race directors. Using the latest registration data, your event's historical performance and data from competitors, ACTIVE can now very accurately predict the range in which your revenue performance will fall. This is pure gold for race directors as they plan, as you are able to curtail spending, or pump up the marketing, or run special promotions—whatever strategy makes sense for your to hit or exceed your goals.
The same technology that allows us to predict how much money you'll make also allows us to use the same data to see how many people will realistically come to your event. This information is great to take the guesswork out of sponsor communications and merchandising.
4. How do I ensure my marketing is effective? Enough cannot be said about the importance and value of rock-solid marketing ahead of, during and after your event. Great buzz not only helps you secure participants, but also sponsors, volunteers and spectators. We've always been committed to making sure our race director customers understand what goes into a great race marketing strategy, things like an SEO-friendly website, a great Facebook page and reminder emails.
With ACTIVE Target Marketer®, our customers can really take their marketing to the next level. Based on historical data, we can tell you when to send your messages to make sure that you get the biggest audience for your posts. We can also tell you who's seeing your posts, who's engaging and how many of those engagements are converting to customers for you. And we can do this across the major social media networks and email, so your entire event marketing strategy is optimized for maximum value.
In short, data is what makes a great event even better. With the most relevant information, not only are you ensuring your success, but improving the experience for your participants and sponsors.
Don't miss more endurance news, tips and best practices. Subscribe to the blog now.