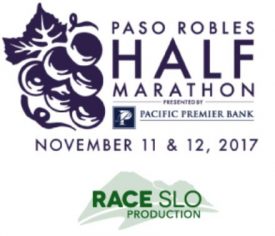 Inaugural family-friendly Race SLO produced event features six races and two-day festival; benefit for 4A Foundation for Paso Robles Schools
PASO ROBLES, Calif. – The 4A Foundation benefiting Paso Robles Schools has announced the inaugural Pacific Premier Bank Paso Robles Half Marathon slated for Sunday, November 12. This new & improved "Paso Half" is a combination of the original Harvest Half Marathon and Paso's long-standing tradition Heritage Oaks Bank Fun Run. The new Paso Robles Half Marathon will begin and end with a festival in Downtown City Park and will feature healthy activities for all ages including a half marathon race, 5K run, family one mile walk/run, kids' dash, diaper dash and the first annual One Mile Cross Country Championship youth race. The pre- and post-race free community festival will offer games, entertainment, live music, famous Paso wine, craft beer and fresh, hot food.
The Paso Half is being hosted by the 4A Foundation for Paso Robles Schools in partnership with local professional race production company Race SLO. The 4A Foundation is a non-profit that supports youth programs in academics, arts, athletics and agriculture programs in Paso Robles Joint Unified School District. Pacific Premier Bank is the title sponsor. One hundred percent of all proceeds will go directly to benefit the students in Paso Robles Joint Unified School District.
This fall event is a family-friendly weekend and runners or walkers of all ages and abilities are welcome to participate. Whether you are running in a race, cheering on runners or are looking for something to do with your family, the Paso Half is the place to be Veterans Day Weekend. The event begins on Saturday, November 11, from 10:00am to 2:00pm in Downtown City Park, with packet pick-up, race registration, vendor booths and free activities for kids.
Race day is Sunday, November 12, with all races starting and finishing at the Downtown City Park. The half marathon begins at 7:00am and features a new course that makes its way east through the city of Paso Robles and utilizes many existing running paths. All participants receive a t-shirt and finisher's medal while winners in each age group go home with a bottle of Paso Robles wine. Sponsorship, donation and vendor opportunities are available.
The Paso Half event is also the home of the new San Luis Obispo County Elementary Cross Country Championships. Children ages six to eleven who are running the one-mile race will automatically be entered into the county overall championships for a chance to be crowned fastest miler in the county! Children who place in the top three of the one-mile race will also receive a unique 'SLO County Champion' award. This race begins Sunday at 9:30am.
On race day, the Downtown City Park will be home to the race festival from 6:00am to 2:30pm Sunday. The festival will feature live music, free activities for kids, hot food, beer & wine and various vendor booths.
For more information about the Pacific Premier Bank Paso Robles Half Marathon, sponsorship opportunities or to register, go to: www.pasohalf.com
#          #          #