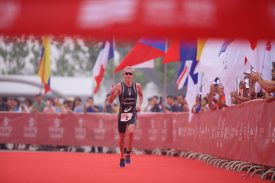 BEIJING – On Sunday, September 10, amateur and professional athletes from around the world competed in the 2017 Beijing International Triathlon. Olympians Henri Schoeman from South Africa and Paula Findlay from Canada took first place honors in the men and women's pro division. Local favorite Mengying Zhong of China placed third amongst women. More than 1,500 professional and amateur athletes from more than 34 countries participated in the sixth annual race, on Sunday, September 10, in the Fengtai District of Beijing.
"It's a great feeling to win here in Beijing at a non-drafting race against such a strong field of triathletes," said 2017 Beijing International Triathlon Champion Henri Schoeman. "The course was harder than I expected. The run was brutal – especially completing the first flight of stairs, only to see more stairs. I just tried to stay ahead of Ryan Fisher and get to the finish. I'm very happy with my performance here today."
Top Finishers:
First Place:
Henri Schoeman, RSA, 1:54:14
Paula Findlay, CAN, 2:11:33
Second Place:
Ryan Fisher, AUS, 1:54:39
Lauren Goss, USA, 2:14:38
Third Place:
Eric Lagerstrom, USA, 1:55:40
Mengying Zhong, CHN, 2:17:08
"This was my first time racing this event, and it felt so good to win again after all my ups and downs with injuries," said 2017 Beijing International Triathlon Champion Paula Findlay. "Despite a fall off my bike, the course was more awesome than I could have imagined. I hadn't done the course in advance and this was my first time racing here, but adrenaline helped pull me through. We had the most amazing fans cheering us on, I'm so proud to have won here with such great support."
The race started and finished amongst the beautiful scenery of Garden Expo Park, in the eco-friendly Fengtai district of Beijing. The Olympic distance race featured a 1.5 km swim through Garden Expo Lake; a challenging 40 km bike race through the villages of Fengtai and up Qian Ling Mountain, the highest peak in Southwest Beijing; and a final 10 km run through the lush gardens and scenic trails of the Garden Expo Park, including a 480-step stair climb. A sprint distance race took place on Saturday, September 9 bringing the total number of race participants to more than 2,000 as the popularity of triathlon continues to grow in China.
A prestigious field of the world's top professional triathletes including Cameron Dye (USA); Zhou Fang (CHN); Olympian Ryan Fisher (AUS); Olympian Henri Schoeman (RSA); Eric Lagerstrom (USA); Ben Shaw (IRL); Olympian Paula Findlay (CAN); Lauren Goss (USA); Anneke Jenkins (NZL); Jacqueline Thistleton (AUS); Leanne Szeto Shiu Yan (HKG); and Mengying Zhong (CHN) all competed in the Olympic distance race for $100,000 in prize money.
The Beijing International Triathlon is owned by the Fengtai Sports Bureau and produced by IMG, with support from the Beijing Sports Bureau. For additional information, visit www.beijinginternationaltriathlon.com or follow at www.facebook.com/BeijingTri, www.instagram.com/Beijing_Tri and www.twitter.com/Beijing_Tri.
# # #
About Fengtai
The Beijing International Triathlon will primarily take place within the Wang Zuo County, in the Fengtai District, with a history that dates back to 221 BC. The Fengtai District, with a population of 2.1 million, is located in Southwest Beijing at the foot of the Western Hills, by the Yong Ding River. Dating back to the Liao and Jin Dynasties, the Fengtai District was the location of the Imperial City. Racers, family and friends visiting the area will be treated to several of China's most famous sites including the 900 year old Lotus Pool; the Lu Gou Bridge (Marco Polo Bridge) that dates back 800 years and the Wan Ping Fortress from the 17th century.
About IMG
IMG is a global leader in sports, fashion, events and media, operating in more than 30 countries. The company represents and manages some of the world's greatest sports figures and fashion icons; stages hundreds of live events and branded entertainment experiences annually; and is a leading independent producer and distributor of sports and entertainment media. IMG also specializes in sports training; league development; and marketing, media and licensing for brands, sports organizations and collegiate institutions.
Contact:
DeeDee Taft
deedee@spinpr.com
Spin Communications
415/380-8390