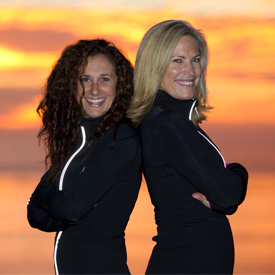 Women's Athletic Apparel Company Seeking Investors Through StartEngine
SAN DIEGO, California – September 12, 2017 – GRACEDBYGRIT, a high-performance women's athletic apparel company based in Solana Beach, Calif., has launched its second round of equity crowdfunding on StartEngine after exceeding its first fundraising goal. A community-driven company, GRACEDBYGRIT is continuing its mission of empowering women by providing anyone the opportunity to become an investor.
Recognizing the challenges of raising capital as female entrepreneurs, GRACEDBYGRIT turned to the equity crowdfunding platform in June to grow the business with the support of like-minded men and women. With the funds raised through StartEngine, GRACEDBYGRIT plans to scale the business by updating its e-commerce platform and expanding its product line. "As women, we face the unique difficulty of raising money from traditional venture capitalists, with only 2.5 percent of female-founded businesses receiving funding," said Kimberly Caccavo, GRACEDBYGRIT Co-Founder and Chief Executive Officer. "We continue to hear stories surface about predatory venture capitalists or harassment at the country's largest technology companies and it isn't surprising. The story is the same every time: it's hard to raise money as women."
In only four years of business, GRACEDBYGRIT has evolved into the first community-driven, direct-to-consumer brand for women 30 to 60 years old. To date, the company has sold apparel to more than 40,000 loyal customers. While the company continues to show steady momentum and growth, Co-Founder and Chief Operating Officer Kate Nowlan is working to build GRACEDBYGRIT into a hundred-million-dollar company that empowers women to look, feel and be their best selves. "Although we have an amazing product line and a team of intelligent, talented and authentic women behind this company, we need capital to take our business to the next level. We have created a community of inspiring and inclusive women that only continues to grow."
Beyond making athletic apparel, the brand is on a mission to empower and keep women safe. Every purchase comes with a safety whistle that can be securely looped on any product, or placed within the hidden front or back pocket of the leggings. For more information about GRACEDBYGRIT and its equity crowdfunding campaign, visit http://bit.ly/GBGStartEngine.
ABOUT GRACEDBYGRIT 
GRACEDBYGRIT is a women's athletic apparel brand based in Solana Beach, Calif., founded in 2013 by Kimberly Caccavo and Kate Nowlan after recognizing the need for high performance, flattering and safe workout gear for active women, ages 30 to 60 years old. GRACEDBYGRIT designs and manufactures premium athletic apparel that empowers and keeps women safe. In just four years of business, GRACEDBYGRIT has generated over $2.8 million in revenue, sold 50,000 pieces of apparel and formed close relationships with more than 40,000 loyal customers. All products are designed and manufactured in San Diego. GRACEDBYGRIT is an emerging leader in the activewear industry, where US activewear sales reached $34.5 billion for the fiscal year ending June 2015, according to The NPD Group. For more information, please visit www.gracedbygrit.com.
###