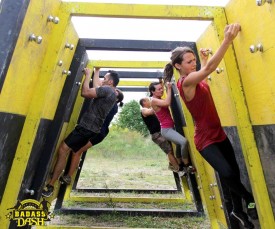 Registration open for 2016 Kitchener-Waterloo, 2016 Ottawa and 2016 Las Vegas BADASS Dashes
SAN DIEGO, CA, April 21, 2016 – Events.com, an event management platform that facilitates and enhances the experience of hosting and attending events, announced today that Fun Guys, LLC, the special events company for the 2016 BADASS Dash series, the ultimate obstacle course challenge and adventure run, has selected Events.com to provide simple, easy-to-use event management and registration for BADASS Dash.
Registration is now open for the 2016 Kitchener-Waterloo BADASS Dash on September 24 at the Chicopee Ski and Summer Resort in Kitchener, Ontario, the 2016 Ottawa BADASS Dash on September 3 at Wesley Clover Park and the 2016 Las Vegas BADASS Dash on May 28 at Sam Boyd Stadium.
"The round-the-clock, hands-on attention we have received from the Events.com team up to this point has been absolutely phenomenal," said Brett Pegler, Marketing Manager, BADASS Dash. "Receiving excellent care allows us to provide the best customer care to our participants."
"The BADASS Dash team has consistently told us that our platform is extremely easy to use and it's a really a simple registration process," said Julie Zattolo, Director of Business Development at Events.com. "Usability and user-centered design is at the core of what we do."
The BADASS Dash is one of the world's leading producers of obstacle course challenges.  After more than 3,000 adventure enthusiasts raced to the finish line during last year's obstacle course challenge, the team upped the difficulty of the design of new obstacles for an unparalleled and inventive course. 30 BADASS obstacles are sprawled across a 7K course, the ultimate adventure race and obstacle course challenge.
ABOUT BADASS DASH
The BADASS Dash is a world-wide Obstacle Course Challenge and Adventure Race series. For more information, visit www.badassdash.com. Find BADASS Dash on Facebook and follow on Twitter.
ABOUT EVENTS.COM
Events.com is a leading online marketplace uniting event organizers and event participants in a single place. Its cloud-based application bridges the gap between event organizers and event goers, giving the event ecosystem an improved solution to planning and finding events. Events.com is headquartered in San Diego with an office in Ottawa, Canada. To learn more about Events.com, please visit www.events.com.
Media Contact:
Sarah Pease or Lori Sussle Bonanni
Events.com
858.257.2300 x280
press@events.com
###