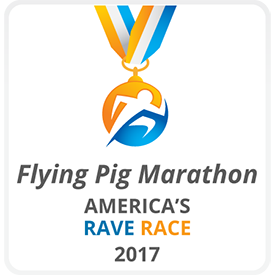 The beloved Cincinnati running event triumphed over 63 challengers—including the Chicago Marathon and Boston Marathon—to hog the spotlight
Los Angeles, CA (April 5, 2017) — America's runners have spoken, and the answer is an emphatic "oink".
The Cincinnati Flying Pig Marathon, Ohio's largest annual marathon event, has been crowned America's Rave Race for 2017 after thousands of runners cast their votes in the inaugural March Lunacy tournament hosted by RaceRaves.com.
To give the running community a tournament of its own, RaceRaves created the concept of a "March Madness for races" featuring 64 top U.S. road and trail races of all distances. Races were seeded by their number of 2016 finishers and voting was conducted over three weeks, with those races that earned the most votes advancing to the next round.
The tournament's Final Four was an epic battle of regional champions and closely matched contenders. Consensus favorite Boston was left crying unicorn tears as the Flying Pig—fresh off a takedown of Chicago in the Elite Eight—pulled off the upset, leading to a championship matchup with The Cowtown, which withstood a furious rally by the Hood to Coast Relay to advance to the final.
In the end, though, the Flying Pig emerged victorious with a narrow 2% margin of victory to bring home the bacon and the inaugural title.
"On behalf of everyone at the Flying Pig Marathon, we're excited by this honor and grateful to all the athletes who supported us and voted us America's Rave Race," said Iris Simpson Bush, the Executive Director of the Flying Pig Marathon. "Now we invite all runners to visit Cincinnati and judge for themselves as we look forward to producing another world-class event this May."
As finalists the Flying Pig and The Cowtown share many similarities, not only with each other but with other successful races. Each boasts broad appeal with runners across the country, deep relationships and tremendous support within its community, and a popular theme that showcases the local culture.
In particular, the Flying Pig pays homage to Cincinnati's history of pork production with start corrals known as "pig pens", volunteers known as "grunts" and a "finish swine" that runners cross to end their race. The organizers pride themselves on providing outstanding customer service and a first-rate runner experience. And finishers recommend the race for its amazing community support, which appeals to experienced and first-time marathoners alike.
The 19th running of the Cincinnati Flying Pig Marathon takes place on May 5-7, 2017, while The Cowtown celebrates its 40th anniversary on February 23-25, 2018. Registration is now open for both events, which offer a variety of distances for runners of all ages and skill levels.
"We're proud that our inaugural March Lunacy tournament showcased the breadth and diversity of running events across the country," said Mike Sohaskey, Co-founder of RaceRaves. "Extending the concept of 'March Madness' to races perfectly complements our mission at RaceRaves—to help runners of all levels discover the best races around the world, from well-known events to hidden gems."
The final bracket and March Lunacy tournament results can be found on RaceRaves.com.
About RaceRaves
RaceRaves is the leading online race finder and reviews community for runners around the world to share their experiences and find their next challenge.  The company partners with events of all sizes, mobilizing their finishers to help spread the word and attract new runners. With powerful search capabilities plus thousands of member (i.e. "Raving Lunatic") reviews for races in all 50 states and 46 countries, RaceRaves enables runners of all levels to find the best races, track their past and future races, and post their ratings and race reviews to help other athletes.
For more information about RaceRaves, visit RaceRaves.com. And you can follow the company on social media at facebook.com/raceraves, on Instagram @raceraves_ig and on Twitter @raceraves. #ravinglunatic