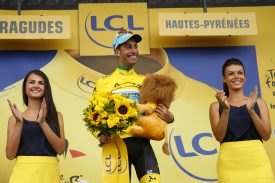 High-end bike manufacturer's Gallium Pro 2018 rides into the leader jersey
Montreal, July 13, 2017– Argon 18's new bike, the Gallium Pro 2018 has moved to the top of the leader board at cycling's premier event the Le Tour de France. Astana Pro Team's Fabio Aru (ITA) took over the yellow jersey at stage 12 of the Le Tour de France. Aru is riding Argon 18 Gallium Pro 2018, which was recently launched at this year's iconic race.
Astana Pro Team's Aru moved into the top position of the general classification and, for the first time in his career, wears the yellow jersey heading into stage 13 of the Le Tour de France. Aru is riding Argon 18's Gallium Pro 2018, a recently launched bike at this iconic sporting event.
"This is the ultimate dream for a rider, a team, a bike company, to be in yellow at the Tour de France. Really this is a dream come true for our company and we are beyond proud of Fabio and Astana Pro Team and to be a part of their program. The Gallium Pro 2018 is delivering," said Gervais Rioux, President and CO-Founder of Argon 18.  "July 13th, and then he will start stage 13 in yellow, what a moment. Number 13 was always good luck for me as a rider and now for our company the same."
"This is a dream of every rider! After some difficult months, I live a really good moments, starting with Italian Championships and now at the Tour de France with my victory and the yellow jersey. That's true that I live it together with my new bike Gallium Pro. I love it and I really feel good on it," said Aru.
Aru now leads the general classification, Chris Froome is 6 seconds behind, Romain Bardet is third, 25 seconds behind.
"Honestly, it was a very tough stage, also the weather made it even harder. I want to thank my team, who supported me and kept me in front the whole day. The last climb was very fast and steep. I attacked with more or less 350 meters to go and gave my all for a maximal result. I congratulate Romain Bardet with a nice victory. But for me it is a great trophy to get this yellow jersey. Unfortunately, yesterday Dario Cataldo was forced to quit the race after the crash. Also, Jakob had a terrible day today – he rode with an injury. So, I want to dedicate this yellow jersey to them and also to the entire team, who was close to me in these days," said Aru, who switches to the yellow jersey from his recently won Italian National Champion kit.
It was a really tough day for Astana co-leader Jakob Fuglsang. Due to his injury, he had to step down from the leading group on the Port de Balés and to continue with his own rhythm. At the finish, he lost over 27 minutes to the stage winner.
"I am fully empty. The first part I tried to follow the others, but later it was just too much for me – my injury and its consequences did not allow me to continue the fight in the overall classification. Today was a very tough day for me. But, tomorrow I want to start again. Will see how it will be," said Fuglsang.
Stage 13 of the Tour de France is a puncher of 101 km from Saint-Girons to Foix with 3 climbs of first category. Look for the Astana Pro Team to be in defense mode and work to protect Aru throughout the day.
"There are a lot of important stages still ahead here at the Tour de France and already tomorrow we will have a short but difficult stage in the Pyrenees, which can change a lot. I think we have a strong team and despite yesterday crashes, we are ready to continue our fight at the Tour. We will move here step by step, stage by stage," said Fabio Aru.
Aru is riding the Gallium Pro 2018 in a custom painted "Il Cavaliere" celebrating his Sardinia heritage.
###
About Argon 18
Established in Montreal, Canada, since 1989, Argon 18 has built itself a strong reputation in the cycling world. Guided by Olympian and 3-time Canadian Champion Gervais Rioux, one of the most successful North-American racers of his generation, the manufacturing of all Argon 18 bikes is the result of a brilliant expertise. The sophisticated and inventive design of Argon 18 bikes is based on handling, aerodynamics, and human performance at its core, fully in line with the morphology of each cyclist. All Argon 18 bikes integrate cutting-edge technologies, and are designed and developed in Canada. Argon 18 bikes are now available around the world in more than 70 countries.
About Astana Pro Team
Astana Pro Team is a Kazakh squad that was formed in 2006. Led by Alexander Vinokourov, the most famous and successful cyclist in the history of Kazakhstan and one of the greatest sportsman ever in his country. The team has a Grand Tour talent in the shape of Fabio Aru, who won the 2015 Vuelta a España after placing second in the Giro behind Alberto Contador earlier that year.
###
Source:
Kelly Reed
International Marketing and Communications  |  Argon 18
kelly@argon18bike.com