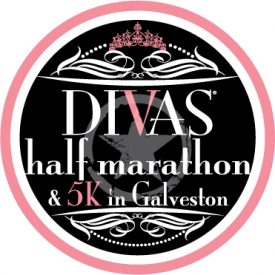 Women's event set to return to Galveston, TX 2018
Miami, FL – For the fourth year in a row, the Divas® Running Series returned to Galveston.  Although windy weather was predicted the week leading up to the race, the 3,000 Divas who convened at new venue Moody Gardens ran each distance undeterred.
Kristen Dodd, from Sugar Land, TX, finished first in the half marathon. The 29-year-old finished with a time of 1 hour, 37 minutes and 32 seconds.  Paige Loehding, from Carrollton, TX finished second with a time of 1 hour, 40 minutes and 13 seconds while Joelle Mueller, of Houston, TX, rounded out the top three with a time of 1 hour, 40 minutes and 39 seconds.
The 5K kicked off 15 minutes after the half marathon, at 6:50 AM sharp. Sunnie Rogers, of Houston, TX, took first place with a time of 22 minutes and 22 seconds. Anna Luna and Sandy Robbins, came in second and third, respectfully, with times of 23 minutes and 37 seconds and 23 minutes and 49 seconds.
As with all Divas events, participants passed the infamous boa and tiara station right before the finish line.  EP Photos was on hand to photograph the Divas in all their glory as they triumphantly completed the race.  All finishers received the new Divas® medal with Pandora® compatible charm.
Robert Pozo, the President & CEO of Continental Event & Sports Management, was eager to compliment the City of Galveston as he and his staff look forward to 2018.  "Coming back to Galveston is always such a pleasure. The event was a success from the participant and city perspective assuring that next year's race would be on the similar weekend and venue. Moody Gardens also rolled out the red carpet making all participants and fans feel welcomed.  The half marathon course had participants running through the Moody Gardens, en-route to the seawall as the sun was rising and then traversing through a few beautiful neighborhoods prior to completing the course."
Next year's race will take place on Sunday, April 22, 2018.  Registration is now available on Active.com.  Full results are available at www.runlikeadiva.com/results.htm
###
About The Divas® Running Series:
The Divas® Running Series is a group of female-inspired running events throughout the United States consisting of a Health & Fitness Boutique, a 5K road race and a half marathon race and finish line ex. Each of the Divas® events consists of additional activities geared toward women including a boa & tiara station, "bubbly" toast at the finish and fun entertainment along the course. Now in its eighth year, the race series received the highly coveted SportsTravel Award for Best Amateur Series or Circuit in 2012, 2013 and 2016. Event locations include Galveston, TX, North Myrtle Beach, SC, Chicagoland, IL, San Francisco Bay, CA, Toronto Island, Canada, Peachtree City, GA, DC's Wine Country, VA, Long Island, NY, San Juan, PR, and Temecula, CA.  For more information, please visit: www.runlikadiva.com.
About Continental Event and Sports Management Group, LLC:
With world-class running events such as the Divas® Running Series and the Myrtle Beach Mini Marathon, Continental Event and Sports Management Group, LLC is one of the premiere sports management companies in the United States. Robert and Gaby Pozo, founders and managers of Continental, have over 17 years of experience in the race production industry providing unparalleled events to participants and their host communities.
Contact:
Michelle Muller
Continental Event & Sports Management Group LLC
mmuller@usruns.com