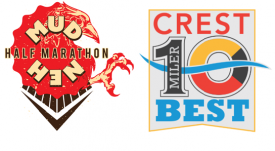 DelMoSports Acquires and Rebrands Wild Half Marathon and Launches an All New Event as Part of Series
Wildwood, NJ – DelMoSports is excited to announce a new running series that includes two premier races at the Jersey Shore.  This series will include DelMoSports' first ever acquired event – the Wild Half Race Series held on the iconic Wildwood Boardwalk and the All New Crest Best 10 Miler in Wildwood Crest, NJ.
DelMoSports' recently acquired the Wild Half Race Series from Morey's Piers and is rebranding the event, partnering with a local craft brewery to make this an instant classic.  Now known officially as the MudHen Half Marathon, it will be the center of an epic, weekend-long running festival in the heart of the Wildwoods designed by DelMoSports and MudHen Brewing Company.
The MudHen Half Marathon is named after the first passenger train in Wildwood, which often got stuck in the marshlands during high tide and hence became known as the MudHen. The name symbolizes that "I think I can" spirit of the Wildwoods.  The MudHen Half Marathon will be held on April 29th and will include a world-class half marathon, an 8k and a 5K race.  The MudHen Brewing Company will host Sunday's after party at its new, world class brewery, the first its kind in the Wildwoods!
The DelMoSports Running Series is also launching The Crest Best 10 Miler, premiering Columbus Day Weekend, October 6-7.  This event will showcase the award-winning beaches and small shore town that was named the #1 Summer Hot Spot in the entire country by TripAdvisor in 2017.  The Crest Best will feature 'a la carte' pricing for dollar conscious athletes.  In addition to the 10 miler, there will be a 5k and 5 mile race during the weekend. Each race will cost the same with a base price of only $19.10, commemorating the year Wildwood Crest was incorporated. Athletes can choose to add a finisher medal, shirt, and buffet breakfast as part of their experience with the price never reaching higher than $39.99 for any race.  Held in partnership with the Borough of Wildwood Crest and the Greater Wildwoods Tourism Development Improvement Authority, Stephen Del Monte, the Founder of DelMoSports, is excited and proud to host a world class running event in his hometown.
#
DelMoSports, LLC is a boutique race company founded in 2004, specializing in elite destination events along the southern New Jersey shore and Delaware.  Their unique and award-winning events include IRONMAN 70.3 Atlantic City, the Atlantic City Triathlon, Tri the Wildwoods Triathlon, and Escape the Cape Triathlon and Open Water Swim Classic, which was voted the Best Triathlon in the Mid-Atlantic and Northeast Regions by Competitor. Known for high quality, athlete-centered productions with an emphasis on community involvement, DelMoSports events provide challenging courses, spectacular scenery and amazing vacation opportunities for athletes and their families. www.delmosports.com
Media Contact:
Phaedra Laird
(609) 788-8548
phaedra@lisajohnsoncommunications.com