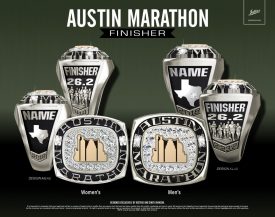 Accolade Rings also created 2018 championship rings for male and female marathon winners
AUSTIN, Texas, December 6, 2017 – High Five Events, one of the largest privately owned event production companies in the United States, introduces Accolade Rings as a sponsor for the 2018 Austin Marathon. Accolade Rings designed the official championship ring for the overall men's and women's 2018 Austin Marathon winners. They also created a beautiful, custom design that's available to all marathon and half marathon finishers.
"We are pleased to partner with the Austin Marathon and provide the official championship rings for 2018," said John Osgerby, owner and designer of Accolade Rings. "Our beautiful rings will inspire runners of all levels and be enjoyed as a lasting reminder of a great challenge met."
Accolade Rings will customize each Austin Marathon finisher's ring. Customization includes finisher's name, year, time, distance, stone placement, and size. The Austin Marathon rings will be created with a proprietary metal called White Lustrium, an exclusive metal blend that is a durable and affordable silver-toned metal. If purchased prior to February 17, 2018, participants will receive a complimentary trophy box, which will also be customized with the participant's name and the Austin Marathon logo etched into the glass top. Finisher's rings are now available for purchase.
"The customized finisher's rings are the perfect way for runners to commemorate their achievements at the 2018 Austin Marathon," said Jack Murray, co-owner of High Five Events. "The men's and women's marathon championship rings will elevate the competition of our ever-growing Elite Field."
The Austin Marathon will celebrate its 27th year running in the capital of Texas on February 18, 2018. Austin's flagship running event annually attracts runners from all 50 states and 20+ countries around the world. Having start and finish locations just a few blocks apart, being within walking distance of many downtown hotels and restaurants, and finishing in front of the picturesque Texas State Capitol makes the Austin Marathon the perfect running weekend destination. Participants can register for the marathon, half marathon, or 5K.
About High Five Events:
Beginning with the launch of a single triathlon in 2003, High Five Events has grown to become one of the largest privately owned event production companies in the United States. In addition to the events it owns and produces, the Austin, Texas-based company offers consulting and event production services to dozens of additional events each year. High Five Events is community-centric and has more than 100 years' combined experience organizing large events across different venue types in a variety of locations. Follow High Five Events on Twitter (@highfiveevents), Instagram (@highfiveevents), and Facebook (facebook.com/HighFiveEventsWorldWide/) for news and updates.