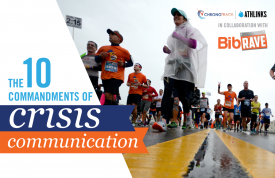 Louisville, Colo., March 15 – ChronoTrack, the leading provider of complete race solutions for endurance sports, has released a free guide for race directors to learn the basics of managing crisis communications through social media. The guide was created in collaboration with BibRave, the new marketing solution for races and endurance brands, and is now available at http://bit.ly/2mokMZn.
"Race directors are bound to encounter some sort of challenge, whether it's extreme weather, accidents, injuries, protests or acts of terror," explained Laurie Pani, Director of Marketing at ChronoTrack, "We wanted to create this guide so race directors can be prepared and use social media to communicate clearly and effectively with participants in the face of any crisis. BibRave's deep social media experience and large community of running bloggers gives them a really useful perspective, making them the ideal partner for the job."
In this guide, race directors will learn:
How to create a crisis communications handbook
Which social media platforms to use
Why silence is not an option
How and why to accept responsibility, whether you are responsible or not
How to respond to questions and criticism
How to incorporate ambassadors into your crisis messaging
How to move on once the crisis is handled
To download the free guide, visit http://bit.ly/2mokMZn.
###
About ChronoTrack:
ChronoTrack is a trusted provider of race solutions for timing partners and race organizers. ChronoTrack supports 25 of the 30 largest races in the U.S. Its comprehensive solution offers events a modular approach to accessing registration, on-site registration, race check in, scoring, live results, mobile results, athlete updates, on-site results, athlete photography and video finishes. This, coupled with its timing equipment and services from ChronoTrack's network of certified timing partners provides the most complete race management solution for races in the market. To learn more, visit www.ChronoTrack.com.
About BibRave:
BibRave works with races and brands to help them engage with runners and ultimately drive more sales and registrations. Through their large network of running bloggers (BibRave Pros), their popular Twitter event (#BibChat), and their new Podcast (The BibRave Podcast) BibRave helps endurance brands and races go beyond simple advertising and truly connect with more runners.
The company's consumer facing-product is a race review site where runners can learn about a race before signing up, and leave feedback after the event. The company launched in late 2013 in the Midwest and is now based in Portland, Oregon.
Media Contact:
Laurie Pani
lpani@chronotrack.com
978.376.9717