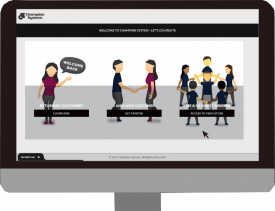 Faster shipping, improved user interface, and brand new 3D design lab.
Brooklyn, NY Just weeks after reemerging as Champion System North America, the custom technical apparel brand is excited to unveil a series of new business, free shipping upgrades, and website enhancements heading into the New Year.
Customers will be able to upgrade their shipping to priority, free of charge. Champion System Priority Shipping (4-5 weeks) has become "The new standard for our production and delivery turnarounds" said VP of Sales and Marketing, Jay Thomas. Customers will now experience this at no additional cost, 365 days a year.
Champion System will also be making enhancements to their website that will include updating order portal theme, and making navigation more user-friendly. "Our mission is to deliver our customers a seamless and collaborative experience. We're excited to unveil a series of new features and improvements to champ-sys.com. We know you will love them just as much as we do" continued Thomas.
The new 3D design lab is an interactive and fun way to customize. With tools and features colors, logos, shapes, and patterns can be added to apparel in seconds. If you don't know where to begin simply use one of the pre-made designs and customize from there, it's that easy!
3D Design Lab: https://custom.champ-sys.com/DesignLab/en-US/
See teaser video here: https://www.youtube.com/watch?v=RUeq26JMAiM 
About Champion System
Champion System, a worldwide leader in custom technical apparel, was founded in 2005 and has quickly earned the reputation as a company offering the finest quality handmade garments for a wide range of sports and activities.
Strong customer relationships and close collaboration with the world's top athletes has been the key to Champion System's success. The distinctive and stylish garments are worn by Olympians, National and World Champions, and recreational athletes of all levels.
The goal is to allow the customer to be their own brand. Known far and wide for their solid commitment to pioneering innovative, race-proven garments that can be customized with virtually any design. Along the way Champion System has revolutionized sublimation printing, redefined garment construction and simplified the custom ordering process.  With offices in 22 countries Champion System continues to set the standard in the custom apparel industry. For more information visit champ-sys.com.
If you would like more information, please contact Kimberly O'Rourke at 718-383-8855 or email Kimberlyo@Champ-sys.com.