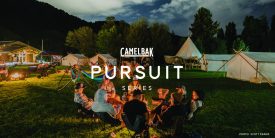 Outdoors Adventure Getaway Series Adds Incredible Activity And Experience Offerings
SAN FRANCISCO, Calif, March. 13, 2018 – CamelBak Pursuit Series, North America's premier all-inclusive outdoors adventure getaway series, which kicks off April 27-29, 2018 at Reveille Peak Ranch, just outside Austin, Texas, is elated to announce nine new partners for the three all-inclusive outdoors adventure experiences. These partners are aligned with Pursuit Series' mission to provide an immersive and inclusive outdoors experience, designed to promote confidence and community in outdoors sports and activities in a fun, "summer camp" environment for adults.
Each partner offers a unique and integrative activity, along with gear, guides and experts, to create a truly experiential and enjoyable approach to learning or honing skills in the outdoors, as well as the supplement to these moments, in the way of live entertainment, sumptuous meals, accommodation and libations.
All partners and activities offered at CamelBak Pursuit Series can be viewed at https://pursuit.theoutbound.com, click on View Schedule to see itinerary at each location.
CamelBak Pursuit Series Locations and Dates for 2018:
Reveille Peak Ranch, TX: April 27th – 29th
Hunter Mountain, NY: June 29th – July 1st
Bear Valley, CA: August 10th – 12th
The three upcoming events in the Pursuit Series have an all-inclusive construct, with one and three-day passes available, offering camping (BYO Tent) or Under Canvas glamping accommodation packages, which also include all food, beverages, sports and adventure experiences, gear, expert instruction, musical performances and a gift bag of premiere outdoors goodies from CamelBak Pursuit Series brand partners.
Inclusive and immersive, this new summit of exploration, community and unforgettable activities is brought to you by The Outbound Collective (www.theoutbound.com), the world's fastest growing online outdoor and travel community, and CamelBak (www.camelbak.com), an outdoor industry leader and pioneer of hand-free of hydration. More information and the full schedule for the three locations can be found online at https://pursuit.theoutbound.com
Tickets can be purchased at https://pursuit.theoutbound.com
Social Media:
###
Media Contact: Jess Smith, OutsidePR, Jess@OutsidePR.com, 415.565.9530
About The CamelBak Pursuit Series: The Outbound Collective's CamelBak Pursuit Series is an event that celebrates the outdoors with action-packed weekend getaways in beautiful places. CamelBak Pursuit embraces people from all backgrounds to share in an unforgettable experience that each Pursuer can custom-tailor with activities and educational topics that range from mountain biking to kayaking to introductory seminars on photography or outdoor cooking. Participants choose from a vast number of choices and enjoy a premium experience with professional educators and the best gear.