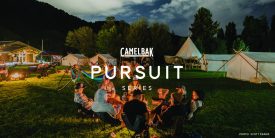 Outdoors Adventure Getaways Feature World-Class Brand Partners For Ultimate Experience
SAN FRANCISCO, Calif, Jan. 18, 2018 – CamelBak Pursuit Series (www.pursuitseries.co) is back for 2018 in three incredible new locations; Reveille Peak Ranch, TX: April 27th – 29th, Hunter Mountain, NY: June 29th – July 1st and Bear Valley, Northern California: August 10th – 12th. Designed as an "Outdoors Adventure Camp for Grown-Ups," the kid in all of us is sure to appreciate the endless activities and community experiences but instead of camp counselors, expert guides and pro athletes will be leading the charge. The all-inclusive nature means that complimentary meals, nightly socials, open bars, fire pits, and live music, plus all expert instruction, classes, and gear for activities round out the experience.
Perfect for solo adventurers, friend groups, couples or families (ages 14+), CamelBak Pursuit Series 1 to 3-day retreat-style experiences encourage reconnection to nature, adventure, community and confidence in the outdoors, capped off with rustic camping (BYOT – Bring Your Own Tent) or elevated Glamping (with Under Canvas) accommodations. Early bird tickets start at just $399 for 3-days of immersive outdoors recreation!
To facilitate Pursuit Series' diverse offering of activities, welcoming beginners through advanced enthusiasts, and emphasis on trying something new, leading specialty retailer Backcountry will have a strong and integral presence at Pursuit Series. Their team of gear and activity experts, Gearheads, will be on the ground to offer educated advice and support for all activities, and Gearheads can assist in future outdoors adventures, providing ongoing support and gear advice at Backcountry.com, with the click of a button! Title sponsor CamelBak will not only be providing innovative hydration packs and vessels for Pursuers, but also hydration stations around the site and a comfortable relaxation lounge.
Featured Brand Partners and activities on offer for all Pursuers to enjoy:
In addition to these incredible brands and activities, Pursuit Series will also offer Rock Climbing, Backpacking, Camping Basics and Wilderness Survival, along with numerous other pursuits; water, land and mountain-based.
CamelBak Pursuit Series Locations and Dates for 2018:
Reveille Peak Ranch, TX: April 27th – 29th
Hunter Mountain, NY: June 29th – July 1st
Bear Valley, Northern California: August 10th – 12th
The three upcoming events in the Pursuit Series have an all-inclusive construct, with one and three-day passes available, offering camping (BYO Tent) and glamping (Tent/Tipi provided) accommodation packages which also include all food, beverages, sports and adventure experiences, gear, expert instruction, musical performances and a gift bag of premiere outdoors goodies from CamelBak Pursuit Series brand partners.
Inclusive and immersive, this new summit of exploration, community and unforgettable activities is brought to you by The Outbound Collective (www.theoutbound.com), the world's fastest growing online outdoor and travel community, and CamelBak (www.camelbak.com), an outdoor industry leader and pioneer of hand-free of hydration. More information and the full schedule for the three locations can be found online at http://www.pursuitseries.co.
Tickets can be purchased at http://www.pursuitseries.co
Social Media:
Facebook: https://www.facebook.com/TheOutbound/
Twitter: https://twitter.com/TheOutbound
Instagram: https://www.instagram.com/pursuit.series/
Hashtags: #EveryoneOutside #CamelBakPursuitSeries
###
Media Contact: Jess Smith, OutsidePR, Jess@Outsidepr.com, 415.565.9530
About The CamelBak Pursuit Series: The Outbound Collective's CamelBak Pursuit Series is an event that celebrates the outdoors with action-packed weekend getaways in beautiful places. CamelBak Pursuit embraces people from all backgrounds to share in an unforgettable experience that each Pursuer can custom-tailor with activities and educational topics that range from mountain biking to kayaking to introductory seminars on photography or outdoor cooking. Participants choose from a vast number of choices and enjoy a premium experience with professional educators and the best gear.