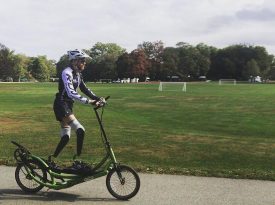 SAN DIEGO, CA (October 26, 2017) – Brian Reynolds set the official double below-the-knee amputee world record in the Chicago Marathon on October 8, 2017, where he ran 3:06:31. In his buildup, the ElliptiGO bike was critical in helping him sustain the volume necessary to be competitive since the pounding of running is even more pronounced in amputees. Reynolds rode the ElliptiGO bike 1 to 2 times a day, 5 days a week in addition to his 50-60 miles of running per week, enabling him to far surpass his anticipated goal of 3:20.
The 29-year-old from New Jersey has overcome overwhelming odds; at the age of four, he contracted meningococcemia, which resulted in becoming a double amputee. Despite prosthetics being very rudimentary in the early 1990s, his parents made sure Reynolds was involved in sports from a young age, and Reynolds eventually found his way into running. His love for endurance pursuits took off from there.
"The pounding that the body takes from so many miles on the road is an issue that all runners have to deal with. It is magnified even more for amputees," Reynolds said. "I cannot run consistent intense miles day after day. I am able to use the ElliptiGO to gain more cardio fitness while eliminating the pounding. Additionally, my hips are a consistent weak point for me. Not having calf muscles means my hips take a beating during running. I really feel like my hips get a very hard workout while riding the ElliptiGO and I saw this translate into stronger running almost immediately. During the marathon I did not have any hip pain or weakness."
Reynolds is now looking to run sub-3:00 in his next marathon, which he is currently deciding, and he looks forward to using the ElliptiGO bike in his next buildup.
"Brian's performance in Chicago shows that anything is possible, if you believe in yourself and put your mind to it," said Bryce Whiting, ElliptiGO Chief Enthusiast. "ElliptiGO is incredibly excited to be part of Brian's inspiring journey and we look forward to supporting him in his future efforts. We can't wait to see what he can achieve next."
About ElliptiGO
ElliptiGO Inc. created the world's first elliptical bicycle to deliver a fun, comfortable and effective workout experience that inspires people and improves their lives. Combining the best of running, cycling and the elliptical trainer, ElliptiGO bikes deliver a strong cardiovascular workout that eliminates impact on joints and allows people to get out of the gym and enjoy the outdoors. Elliptical cycling is an effective way to build fitness without aggravating injuries, and it is great for everyone from the weekend warrior to the elite athlete. The full line of ElliptiGO bikes is distributed through specialty running, cycling and fitness retailers nationwide and through the ElliptiGO headquarters outside San Diego. www.elliptigo.com
* * *