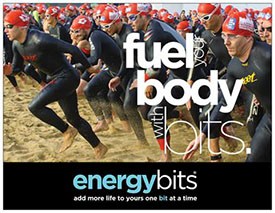 ENERGYbits® CEO Reveals Cutting Edge Science and Insights at MIT
BOSTON, November 4, 2014: Building a successful startup is like training to be a successful triathlete. Both require commitment, endurance, passion and an unrelenting quest to find that elusive edge that helps them win. This Wednesday night, November 5th at 6 PM, their wish may come true. The MIT Triathlon Club has invited ENERGYbits® Founder and CEO Catharine Arnston to the MIT campus to share her game–changing insights about how to succeed as a startup or triathlete. Startups and athletes looking for cutting edge solutions won't want to miss this. The 6:00 PM talk is FREE and open to the public. RSVP's are required. Register now http://www.energybits.com/about-us/events.htmll
ENERGYbits® is a five year old Boston sports nutrition startup that sells algae tabs to athletes, fitness enthusiasts and busy consumers. Algae is the most nutritionally dense food in the world but until now, its health and energy benefits have been virtually unknown outside of Asia. Thanks to ENERGYbits,® knowledge about algae is finally growing and so is the buzz about ENERGYbits.®  Global shipping giant FedEx even produced a short video about themhttp://access.van.fedex.com/energybits/.
ENERGYbits® is no "overnight success story." As every entrepreneur knows, it takes hard work, passion and commitment to turn their vision into a bonafide success. ENERGYbits® has spent years educating athletes, runners and consumers about the benefits of algae. Their efforts are finally paying off as athletes coast to coast are increasingly selecting ENERGYbits® to fuel their race and improve their game, and entrepreneurs are using them to take their performance to the next level. All without caffeine, chemicals, sugar or gluten.  Endorsements from high-profile athletes like NHL's Andrew Ference and three-time USA Olympian David Oliver further confirm the buzz about ENERGYbits® algae is real. It's only a matter of time before the rest of the world discovers what these pros already know. That it works.
Perfect timing
The timing for ENERGYbits® seems perfect. Athletes, consumers and entrepreneurs are finally aware that good nutrition drives health and performance and they are all eager to find healthier, plant-based alternatives to gels, energy drinks or sugary snacks. Entrepreneurs are particularly excited about ENERGYbits® since it gives them energy in minutes and fires up their brain as well as their body. Nutritionally empty and processed foods can have as many as ninety ingredients and are usually full of dangerous preservatives. In contrast, ENERGYbits® have forty vitamins, three times as much protein as steak but just ONE ingredient –organically grown spirulina algae, a "type" of plant grown in water and pressed into tiny tablets that are easy to swallow and easy to carry.
Ready for takeoff
With word spreading about ENERGYbits® the company is busier than ever. They recently partnered with the MIT Triathlon Club; have over sixty Olympic and Pro Athlete endorsements and earlier this year participated in the Sochi Winter Olympics.  Just last week they were just announced as a finalist in BostonInno's "Fifty on Fire", a prestigious business competition attracting 2,000 submissions. ENERGYbits® was one of seven companies selected as a finalist in the sports/fitness category http://bostinno.streetwise.co/all-series/50-on-fire-sports-fitness-finalists-2014/
The company's future looks more promising than ever as more startups and athletes learn that ENERGYbits® are the easiest and most natural way to improve their performance.  Who knew that swallowing something as tiny as ENERGYbits® could have such a big impact? Equally exciting is that the lessons learned and insights gained by this bootstrapped Boston company will be shared and explained to all who attend the November 5th MIT lecture.  Give your startup or athletic career a boost by attending this free talk that includes free ENERGYbits® samples. To purchase ENERGYbits® or to learn more visit www.energybits.com.  Register for the MIT lecture here http://www.energybits.com/about-us/events.htmll
###
ENERGYbits® Inc. is a sports nutrition company owned by Bits of Health Inc. a five year old nutraceuticals company based in Boston MA, USA. ENERGYbits® Inc. sells four brands of algae tabs to professional and amateur sports, runners, fitness enthusiasts, startups and consumers. For more information or to purchase yours visit www.energybits.com
For more information contact:
Catharine Arnston
Founder and CEO
ENERGYbits® Inc.   Boston, MA, USA
617-886-5106
@energybits
catharine@energybits.com
www.energybits.com
www.facebook.com/energybits
www.pinterest.com/energybits