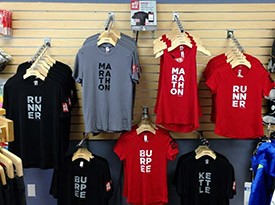 ASHBURN, VA, October 9, 2014 — BONKGEAR, designer and distributor of smart athletic apparel for endurance, strength and agility training, announced today its first retail partnership with Potomac River Running, a family-owned, locally based specialty running and walking retailer with eight locations in Washington, D.C. and northern Virginia, for sales of its performance wear shirts with built-in training programs. BONKGEAR will be available initially in Potomac River Running's Ashburn, Burke and Tyson's Corner locations.
BONKGEAR apparel is the only brand that provides you with the means to enhance or maintain your fitness level by ensuring that you always have a workout with you. Each BONKGEAR apparel design includes a hidden QR code that when scanned using any QR scanner on your smartphone, it auto-launches a mobile-enhanced website containing daily rotating workouts inspired by the theme of the shirt.
Each shirt design includes 9+ custom training workouts, with three levels of intensity – Level 1, Level 2 and BONK level. Potomac River Running has selected four designs from the BONKGEAR catalog. The shirt designs BURPEE and KETTLE include custom training workouts from BONKGEAR coaches, the RUNNER and MARATHON shirts also include workouts designed specifically by Ray Pugsley, co-founder of Potomac River Running's popular training programs such as Running 101©, Running 201© and the Distance Training Program.
"We are thrilled to be working with Potomac River Running as our first retail partner," said Chris Jones, Founder of BONKGEAR. "Including training workouts by their elite coaching team will drive further engagement, value and loyalty with their customer athletes," added Jones.
"BONKGEAR represents a leap forward in how we're able to continue the conversation with our customers through interactive apparel. It's been a rewarding process to work with BONKGEAR to design the training programs that will appear in the RUNNER and MARATHON pieces, and we look forward to getting positive feedback from our customers " said Ray Pugsley, co-owner of Potomac River Running.
About BONKGEAR
BONKGEAR originated in the heart of an athlete, adventure racer and designer. Our founder created custom shirts for his team at a local endurance race and received such interest in them he decided to design a line of shirts focused on popular training themes.
YOU'RE WEARING YOUR WORKOUT – BONKGEAR apparel is the only brand that provides you with the means to enhance or maintain your fitness level by ensuring that you always have a workout with you (patent pending).
BONKGEAR workouts are provided by certified personal trainers and geared toward a moderate to high fitness ability. We realize that good design and great gear can give an athlete style but we also wanted to provide substance to your training by providing the means to strengthen and grow as an athlete. In conjunction with talented, professional and experienced trainers, we expanded our vision to provide high quality, motivational and customized workouts.
BONKGEAR provides its retail and coaching partners with a toolset that allows them to publish a series of mobile workouts for their team/group. BONKGEAR hosts the personalized workouts on a co-branded mobile enabled digital site.
Media Requests
For media inquiries and/or interview requests please contact Clint Wildman at clint@bonkgear.comor 844-462-6654
Connect with BONKGEAR
Online: www.bonkgear.com
Promotional Video: www.bonkgear.com/how-it-works
Facebook: Bonkgear
Twitter: @bonkgear
Pinterest: bonkgear
Email: info@bonkgear.com