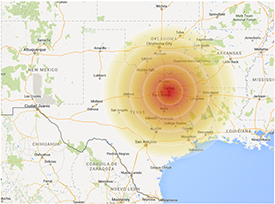 The analogy between fishing and marketing isn't new. A simple internet search offers hundreds of thousands of examples of people philosophizing about how marketing is an art like fly fishing. They advise you to know your fish, go where the fish are, pick the right kind of bait, and be patient.
"People develop their own techniques that they're not going to tell others about," advised Jared Brown, an avid sportsman from Waco, Texas. "There are certain things [in the market] that are designed to catch fishermen and not fish. There's no substitute for experience." Through our discussion, I learned a lot about large-mouth bass, the colors of bait that work best, fishing magazines, water temperatures, and lakes where he's seen success.
Fishing clearly takes a lot more time and patience than I ever imagined, and many of the people I spoke with kept coming back with the same quote, "That's why it's called fishing and not catching."
You're a race director. You need to fill an event as quickly as possible. With everything you've got to do to put on a successful event, participants need to jump in the boat. You need a marketing plan where your rod and reel is a stick of dynamite and a map of where to throw it in the water.
So how do you improve your chances to catch participants as quickly as possible?
I had an opportunity to talk to a data scientist here at ACTIVE who was working on that exact question, and he came up with an answer. For any type of event, he finds the distance at which the effectiveness of your marketing efforts began to decline. Based upon this data, he recommends the optimal reach for an event marketing campaign.
If you're new to marketing, "reach" is a term defined as the number of people exposed to your message using a particular medium. For the purpose of this article, let's call it your "blast radius."
This concentric heat map illustrates the best return on marketing investment (ROMI) for several types of events. The innermost circle is a 5k with an effective radius of about 50 miles resulting in roughly a 75% fill rate. That means once you expand your marketing for a 5k event beyond that distance, the incremental amount of people you attract to your event will decline for every dollar you spend in marketing. This will continue to decline until you reach a point where no matter how much you spend, you won't attract any more participants.
Each subsequent circle is a different type of event, each with an optimal radius for attracting a new group of athletes. In this example, marathons show the largest potential blast radius with a distance of over 200 miles.
So where are you marketing your event? Are you trying to fill your event with too small or too big of a radius? Are you spending marketing dollars on audiences who are too far away to care about your event? Knowing how big a net to cast is just as important as knowing where to cast it.
At the end of my conversation with Jared, the last thing he said stuck with me, "The reason I catch fish isn't because of some shiny new bait I used, it's because I spoke to someone who's been in my situation before and has used proven techniques to catch fish."
ACTIVE Network has helped race directors reach participants for over 15 years. We understand the race industry better than anyone, and this type of data-centered insight governs the types of recommendations we suggest when we help our customers make decisions about their races.
As you begin to ramp up for 2015, look critically at the marketing plans for your event. Are you taking advantage of peak search times? Are you casting a big enough net within the right geographical area? These are tough questions, but don't worry, I'll be back next month with some new insights that will help you get the biggest bang for your buck.
Happy fishing and Happy Holidays.
Don't miss more endurance news, tips and best practices. Subscribe to the blog now.