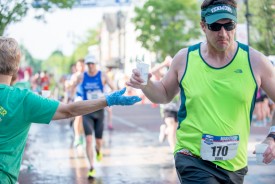 Successful campaign created more interest, hundreds of additional runner sign-ups
Portland, OR – BibRave, the turn-key promotional tool for races and endurance brands, recently capped off a successful campaign with the Vermont City Marathon. Since September 2015, BibRave helped generate awareness, excitement, and hundreds of registrations for the Memorial Day weekend event.
BibRave uses a large network of running ambassadors (called BibRave Pros) to help drive interest and registrations for races. All BibRave Pros are active running bloggers and social media personalities who help races share details that are important to other runners when considering what races to run.
"BibRave paid for itself many times over with the amount of registrations they drove, and the program was so easy for us," said Jess Cover, Director of Marketing & Communications at RunVermont. "I loved how every time we posted info for our runners – images of the new medal, details about the post race party, upcoming price increases – the BibRave Pros grabbed it and helped us spread the word to audiences we otherwise wouldn't have reached. The whole program was easy, effective, and incredibly valuable."
Because of the long promotional runway, the BibRave Pros had time to go above and beyond standard promotional efforts (social media and blog posts), adding local radio interviews and leading pace groups that were training for the Vermont City Marathon.
"Jess and her team do amazing work with the Vermont City Marathon, and they clearly had a lot of fun with our program," said Tim Murphy, Co-Founder of BibRave. "They did such a great job sharing with and engaging the BibRave Pros before the race, and all that content and conversation translates into more interest and registrations – for this year and in the future."
About RunVermont
The most well known race of RunVermont is the Vermont City Marathon, an event they are very proud to bring to runners each and every year. Fortunately, the success and growth of their premier event has led to the development of other services for the running community. Runners can join to run for fun, learn more about endurance running and marathons, participate in low key races like the Half Unplugged or engage their services to support a new local race. They also involve and engage children via their Youth programs, helping kids discover the joys of running at an early age.
About BibRave
BibRave works with races and brands to help them engage with runners and ultimately drive more sales and registrations. Through their large network of running bloggers, BibRave Pros, and their popular Twitter event, #BibChat, BibRave helps endurance brands and races go beyond simple advertising and truly connect with more runners.
The company's consumer facing-product is a race review site where runners can learn about a race before signing up, and leave feedback after the event. The company launched in late 2013 in the Midwest and is now based in Portland, Oregon.