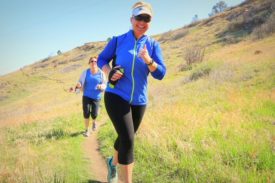 Meet Emily Wheeler
Meet Emily Wheeler
Please welcome the eighteenth American Trail Running Association (ATRA) Trail Ambassador presented by CamelBak, and sixth in 2018. Forty-two year old Emily Wheeler, a former wellness director for the YMCA, builds community through running, volunteering, organizing events, and club management.
For the past 30 years, Wheeler has called Rapid City, South Dakota home where she lives with her husband of 20 years, Mike, and their two children, Ben and Hannah. She started trail running in 2004.  "As the Wellness Director at the YMCA, I had a volunteer that wanted to start a training program for the Deadwood Mickelson Trail Marathon through the Y," said Wheeler. "He challenged me and my best friend, who also worked for the Y, to try a half marathon.  We were group exercise gals, definitely not runners.  We decided to take the challenge and go through the training program.  I'll never forget looking at the schedule and seeing '10 miles' on the calendar…. I thought no way will I be able to run 10 miles in 12 weeks!  But we followed it and we did it, and after a few days of recovery, my friend thought maybe we should try something longer.  Now 10 miles is a short run.
"I love both trail running and road running," added Wheeler who runs five or six trail races each year.  "They are both so different, trail running takes so much to stay focused on what's ahead, the time just flies by. My favorite distance is 30K or marathon.  Because I can't run my own trail races….my favorite trail race is the Big Horn Mountain Trail Run.  This year will be my eleventh time running it.  I like to say it's the only race where you can gain weight because all of the aid stations have such amazing food choices!"
Ironically, in 2010, Wheeler took over as race director of the Deadwood Mickelson Trail Marathon (founded by Jerry Dunn in 2002), and shortly thereafter, formed Wheeler Event Management. "I started my company as a way to be able to work from home," said Wheeler. Also in her portfolio is the Run Crazy Horse Marathon (founded by Dunn and Wheeler in 2010), and the Black Hills 40, a mountain bike race she recently added.  Prior to 2011, Wheeler's professional career included 12 years as the Wellness Director at the Rapid City YMCA, where she still teaches group exercise classes and has for the past 19 years.
Wheeler has volunteered with the Black Hills Runner's Club for over 15 years, eight years as a board member. She is one of the founders of the Black Hills Trail Running Series, which now includes eight races held over the beautiful black hills and has given many runners the opportunity to start trail running.  Additionally, she serves on the board of directors for Black Hills Trails whose mission is to maintain and enhance the trail experience in the Black Hills of South Dakota and Wyoming.  The ultimate goal of Black Hills Trails is a future Black Hills where a diverse network of studiously designed, judiciously constructed and expertly maintained trails connect every city, town and point of interest in the region.
Wheeler's volunteerism includes helping out at trail races. "My 'crew' always runs the Mystic Aid Station at the Leanhorse 100," she said. "We have such a great time with it, and we are the self-proclaimed best aid station ever!  We even have a bicycle waitress that rides out and takes orders from the runners so we have what they want, hot and ready when they arrive.
"I love helping out with trail races because I enjoy hanging out with runners," explained Wheeler. "No one can have a bad day when they get to go play in the forest, right?  It brings people together from all walks of life and all over the world."
To enjoy more of Wheeler's story, click HERE.
The ATRA Trail Ambassador program is presented by CamelBak with support from adidas Outdoor, LEKI USA, and CEP Compression.