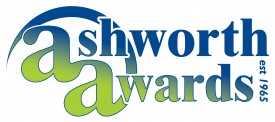 Ashworth Awards is the most recent addition to the growing list of partners
Colorado Springs, CO – The American Trail Running Association (ATRA) announces Ashworth Awards as the newest partner in their Event Standards Program.
ATRA introduced its Event Standards Program in 2012, and recently has included vendors and suppliers as partners to further assist trail race directors in meeting ATRA's 15 criteria necessary for staging a safe and well-organized event.
"Awards are an important piece of the event puzzle. They represent the vibe, look, and feel of an event and provide participants with a long-lasting memento of their achievements.  Entering its sixth decade in manufacturing unique and custom products, Ashworth Awards is the go-to resource for awards and as such, is an ideal partner in ATRA's Event Standards Program," said Nancy Hobbs, ATRA Executive Director.
Says Kim Ashworth, "We are thrilled to be the preferred awards partner of ATRA's Event Standards Program. Ashworth Awards believes that it is important to give back to our sport and be involved on every level. We are not only manufacturers in the endurance sports industry, but we are athletes ourselves! We understand what athletes expect to receive at the finish line. They train so hard and deserve the best awards and medallions when they finish! I look forward to our partnership helping events to provide long lasting mementos for athletes to treasure years after they race their event!"
Ashworth Awards was founded in 1965, and is based in Massachusetts with manufacturing facilities domestically and overseas. They are a leading manufacturer and supplier of custom medallions, awards, plaques and other recognition products. They have long-standing relationships with some of the most recognized endurance events and skill competitions in the world, including The Boston Marathon, IRONMAN, United States Figure Skating and many other large and small events worldwide.
ATRA is a non-profit 501 (c) 3 corporation based in Colorado. Founded in 1996, ATRA's mission is to represent and promote trail and mountain running. ATRA's many resources include a comprehensive online calendar of trail and mountain running events, a quarterly newsletter – Trail Times, and monthly e-news with information about the sport.
Ashworth Awards joins imATHLETE, Marathon Printing, Inc., MYLAPS, and Trail Run Project as partners in the Event Standards Program.
To learn more about ATRA and the Event Standards Program, visit www.trailrunner.com. To learn more about Ashworth Awards, visit www.ashworthawards.com.