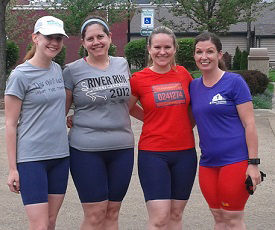 Aspaeris sponsors an all-female team of Illinois natives in the Ragnar Relay Chicago on June 7-8.
NEW HAVEN, CT, May 23, 2013—Aspaeris, a new provider of performance-enhancing, injury-prevention compression sportswear for female athletes, announces the sponsorship of an all-female team from Illinois that will race in the Chicago Ragnar Relay on June 7-8. The team called American Sweathearts has been training in their Aspaeris Pivot Shorts™ Gen2 and are ready to sweat sweetly for the 200-mile, overnight relay race which begins in Madison, Wisconsin and finishes in Chicago, Illlinois. Several team members are no strangers to the benefits of training, racing and recovering in Pivot Shorts.
"Everyone seems to love the Pivot Shorts so far!" remarked team member Maggie Wolff. "I know quite a few of us already owned a pair and wore them during races or for recovery, and they've definitely helped ease aches and pains."
Team Captain Kate Skerrett, who was a member of an Aspaeris-sponsored Ultra team in last year's Chicago Ragnar, has been using Pivot Shorts since they were first released to sports medicine professionals, physical therapists and athletic trainers in 2011. "Whether recovering from a hard run or a lingering injury, Aspaeris has been a big part of my fitness regimen," explained Kate. Like other sponsored Aspaeris athletes, her story is one of perseverance. She was diagnosed a year and a half ago with degenerative arthritis in her hips.
"The first time I heard of Aspaeris was back in the fall of 2011….  I had just wrapped up my first marathon and had continued to push myself with high training mileage week after week.  It wasn't until I started to have an aching pain in my right hip bringing me literally to my knees one morning that I halted running and saw my doctor where I was diagnosed with degenerative arthritis in my hips. They weren't sure if it was years of poor mechanics, high mileage and/or genetics—but I was crushed. I'm not even thirty and I was told that I would have to give up running if I wanted to avoid a hip replacement in my future." But Kate persevered. "I was prescribed physical therapy, and I religiously wore my compression Pivot Shorts to help with the pain. I would wear them to bed and under my work clothes. The shorts gave the right amount of compression that eased a lot of the aches and pains I would have during a flair up. Not to mention you can slip an icepack in between the layers for extra relief." She has since run a marathon in under four hours, one 50k, a handful of half marathons, and has started to compete in Crossfit competitions. This is the first Ragnar team she is captaining.
The American Sweathearts range in age from 28 to 52 years, and combined the team has run over 20 full marathons and 70 half marathons. They are looking forward to running hard in the red, white and blue team colors.
The Aspaeris Pivot ShortsTM Gen2 are sold exclusively online at www.AspaerisPivotShorts.com. They can be purchased for 40% off the retail price until May 31 by using the Promo Code SPRING at checkout.
About Aspaeris
Founded by Samara Innovations, LLC in 2010, Aspaeris is a female-centric sportswear company that strives to protect athletes from injury and enhance their performance with advanced compression apparel. The Aspaeris Pivot Short (APS™) is a unique, two-layer compression short that uses patent-pending technology called Dual Sensory Compression Bands™ to help guide the athlete into proper position while she pivots and runs. APS™ is the only compression short designed specifically for females that improves performance, speeds recovery, and prevents injuries.  In a recent survey, 80% of Pivot Short users reported a performance increase and 62% reported significantly faster recovery time when wearing the shorts after long runs. APS™ is being worn by thousands of new users and has been tested by over 100 premier sports medicine professionals and athletic trainers. APS™ was worn by the fastest all-female Ultra team in the Ragnar Relay SoCal 2012 and is a proud sponsor of the Hartford Marathon Foundation.  Athletes can also engage Aspaeris via Facebook and Twitter.
To learn more about APS™, visit http://www.aspaerispivotshorts.com
To learn more about Ragnar Relay Chicago, visit http://www.ragnarrelay.com/race/chicago
# # #