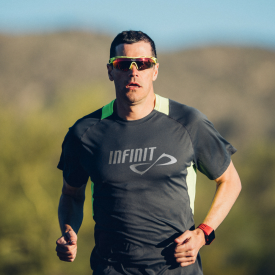 Pro Triathlete Andy Potts and AP Racing Making the Switch to INFINIT Performance
Cincinnati, OH, October 9, 2017 – INFINIT Nutrition is proud to announce a new partnership with world champion and notorious "Good-Guy of Triathlon", Andy Potts. Potts made the switch to INFINIT Sports Fuel for training and racing to help keep him at the top of his game as he continues upon an impressive legacy. Potts has been training on his INFINIT custom blend and will be powered by INFINIT during this year's Ironman World Championship in Kona, Hawaii.
Having used other nutrition products in the past, Potts explains why he made the switch:
"For years, I have used a specific electrolyte formula that was no longer available. So, my nutritionist and I sat down to look at my needs on race day and in training. INFINIT went right to the top of the list. So, I took the 5 Hour Challenge and was blown away. Right then, I knew that I had to work with INFINIT for my own racing and training, plus the nutrition needs of our AP Racing team. My goals are to perform at the best of my ability and help as many people as possible who struggle with their nutrition strategy. INFINIT makes it easy – there is no worrying about carrying loads of food or worrying if you are getting enough."
Andy Potts talks about his 5 Hour Challenge experience: http://infn.us/a/Us2NA0pm
"We are thrilled to bring Andy onboard," said Michael Folan Founder and CEO of INFINIT Nutrition. "We've known Andy for years through our work with the Eleonore Rocks Foundation. It was a natural partnership because he is a pro's-pro, and is very calculated about his nutrition. The build up for Hawaii has been tracking great, his nutrition is dialed in, and I am excited to see him execute on the big stage in Kona."
The Ironman World Championships will be held on October 14th in the tropical paradise of Hawaii. Watch along as Andy pushes himself towards the front of the pack, and witness the INFINIT difference.
About INFINIT Performance Nutrition
INFINIT Performance Nutrition is a premium, customizable nutrition-solution that naturally maximizes the performance of athletes all over the world. Customizable flavor options allow each athlete to find the perfect mix that tastes and performs exactly how they want. Developed with the patented Osmo-FITTM system, INFINIT Formulas are designed to be isotonic and easy to digest, even in the most grueling conditions. INFINIT has grown into one of the most respected names in the sports nutrition industry, fueling top athletes from all endurance disciplines. For more information on INFINIT Nutrition, visit www.InfinitNutrition.us or on social media @theinfinitloop.
About AP Racing
Andy Potts is an Olympian, 70.3 World Champion, Ironman Champion, father and husband. Both on and off the race course, Andy leads from the front. During his career he has amassed over 75 victories, 28 Ironman 70.3 1st place finishes and 8 Ironman victories.  Andy's team, AP Racing, was founded in 2015 to provide athletes with custom coaching solutions, a nationwide community and pro level sponsor support. Find out more about Andy and the AP Racing Team at www.andypottsracing.com.