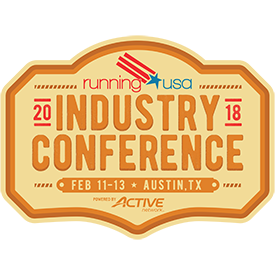 Select leaders from race organization, top vendors ready to lead pressing topics
TROY, Mich. – Bringing together more than a dozen leading voices in the running industry, Race Camps at the 2018 Running USA Industry Conference powered by ACTIVE Network once again offer attendees the opportunity to discuss, share and learn industry best practices and countless ways to improve and grow their organizations.
Covering such pressing topic areas as technology, event organizing, marketing, athletes with disabilities, partnerships and more, Race Camps bring together attendees for four 45 minutes sessions, diving deep, asking questions and getting answers. Each topic will repeat itself twice, allowing attendees a chance to maximize their Race Camp experience.
Sessions and moderators for the 2018 Race Camps, include:
Digital Community Engagement – Vanessa Graetz (Twin Cities in Motion)
Tools for Organizing Events – Doug Flannery (Boston Athletic Association)
How to Avoid Your Race Being the Next Headline – Doug Thurston (Big Sur Foundation) & Ted Mettellus (Competitor Group)
Marketing on a Shoestring – Andy Reilly (Eventgrow Marketing)
Exploring Additional Revenue Streams – Alex Vander Hoeven (Race Roster)
Race Day Tech Tools – Eric Cone (RunSignUp)
On Course Medical & Safety Preparedness – Andy Voggenthaler (Race Guards)
Race Director Therapy – Bring your Challenges and Leave with Solutions – Matt West (DMSE)
Managing Athletes with Disabilities – Dave McGillivray (DMSE)
Runner Amenities – T-shirts, Awards and More – Victoria Brumfeld (Virgin Sport)
Ambassador & Influencer Programs – Mike Sohaskey (RaceRaves)
Social Media Beyond Race Day – William Dyson (High Five Events)
Sustainability Programs – Iris Bush Simpson (Flying Pig Marathon)
Partnering with your Sports Commission/CVB – Marc Zimmerman (Central Florida Sports Marketing)
"Race Camps have grown into one of the very best parts of the Industry Conference," said Christine Bowen, Running USA Vice President of Programming and Operations. "We've assembled an all-star cast of moderators, touching on the most pressing topics in the sport, and we're extremely excited for the opportunity this provides all attendees."
To learn more about the Running USA Industry Conference schedule, please visit: http://www.runningusa.org/2018-schedule
About Running USA
Running USA is a tax-exempt, not-for-profit organization devoted to improving the status and experience of distance running and racing in the United States through collective marketing and promotions, information and communications within the industry and to the national media, services to events and industry members, and the development of American world class stars. It seeks the advancement of the sport and the provision of value to each of its members' events and businesses. For more information, visit RunningUSA.org.