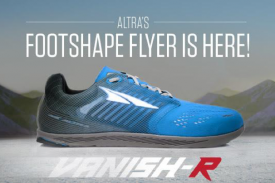 Logan, UT — Introducing the Vanish-R, Altra's first racing flat.
With a 14 mm stack height and weighing only 3.9 ounces, the Vanish-R has the lowest stack height and lightest weight of any Altra shoe.
"Hitting sub-four ounces was a major goal for this shoe because we know that's what the really serious runners want," said Altra founder Golden Harper.  "The Vanish-R feels the most like there's no shoes—more than any shoe out there. It simply vanishes from your feet and your consciousness. Unlike traditional racing flats that rob performance and comfort by crowding your toes, the Vanish-R allows natural toe splay for slipper-like comfort in a racing flat that is all performance."
The Vanish-R is a chameleon—a road shoe, a fast flat or a technique training tool—all with Altra's signature FootShape™ toe box and Zero Drop™ platform. The lightweight, breathable knit upper will keep you dry and comfortable, while the built-in Propel Plate™ push-off feature helps you spring forward to delivers maximum energy return from footstrike to toe-off. This shoe is great for serious runners to have in their arsenal to use on speed work and shorter runs to strengthen feet and improve technique.
"Altra's distinctive FootShape™ toe box is ideal for a racing flat — it allows the big toe to straighten out, transfer your force to a faster, more powerful toe-off and propel you forward," said Harper. "Our balanced, level cushioning, known as Zero Drop, provides two performance benefits in a go-fast shoe. First, it allows for deeper loading of the spring system of the lower leg, allowing for a more explosive push off. Second, it makes the foot to land closer to the body, reducing ground contact time, so the muscles don't have to work for as long on each step."
Color options are racing red, electric blue, yellow/gray, neon yellow/pink and black fade in unisex sizing.
The Altra Vanish-R retails for $100 and is available now on www.AltraRunning.com or at your local specialty running retailer.
About Altra:
While working at a running store, Altra founder Golden Harper was frustrated that modern running shoe technology caused poor running form and had not decreased running injuries. His passion to create a shoe that followed the science produced Altra's FootShape™ toe box and Zero Drop™ platform. Since its founding in 2011, Harper and co-founder Brian Beckstead have grown Altra from one to 25 shoe styles, winning multiple Editor's Choice awards and distribution in more than 60 countries. Join the conversation @AltraRunning and #ZeroLimits on Twitter, Instagram and Facebook.
Media Contact: Colleen Logan, VP Marketing, clogan@iconfitness.com.