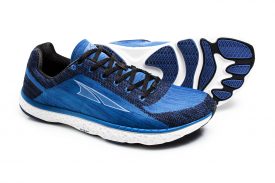 (Logan, UT — February 8, 2017) — The Altra Escalante introduces the new Altra Ego™ midsole, which gives bouncier cushioning with more energy return, despite being softer and thinner. The Escalante is an exciting blend of new material and cushioning for an innovative road shoe that fits between the Instinct and the Torin. This shoe features a richly colored engineered knit upper—Altra's first—that provides a sleek aesthetic and a sock-like fit. Built on Altra's performance last, the Escalante is made for quick runs to marathons, but is also a perfect casual, everyday shoe.
"We're excited about what we've achieved with Altra Ego™ cushioning," said Golden Harper, founder of Altra Footwear. "Our goal with the Altra Ego™ midsole is to offer the holy grail of running shoe cushioning — fast and springy, yet comfortable and soft."
Unlike traditional EVA midsoles, Altra Ego™ performs better and more consistently in extreme temperatures. This proprietary compound has high long-term durability to maintain excellent cushioning and energy return properties throughout the life of the shoe.
The Escalante has a stack height of 25 mm and weighs 8.2 ounces for the men's sample and 6.5 ounces for women's. The color options include red, gray and blue for men and magenta, gray and blue for women. The Escalante also features Altra's signature FootShape™ toe box and Zero Drop™ platform for a more natural, comfortable fit. The Escalante, along with every Altra women's shoe, is Fit4Her™, which means the women's model is produced with softer cushioning on a female-specific last to account for the unique anatomical differences between men's and women's feet.
The spectacular natural environment of Utah, Altra's home state, inspired the shoe's name.
The Escalante River winds through sinuous sandstone gorges and creates the undulating patterns emulated in the shoe's knit upper.  This river and the rugged canyons which drain into it form a key section of Utah's Grand Staircase-Escalante National Monument, providing nearly two million acres of scenic roads and trails for running, hiking and backpacking.
The Altra Escalante is available for $130 at www.AltraRunning.com and at your local specialty running store.
About Altra:
While working at a running store, Altra founders Golden Harper and Brian Beckstead saw the pain caused by traditional running shoes. Their passion to create a shoe that made running enjoyable inspired Altra's FootShapeTM toe box and Zero DropTM  platform. Within only five years, Altra grew from one to 21 shoe styles, winning multiple Editor's Choice awards and distribution in over 50 countries.
Join the conversation @AltraRunning and #ZeroLimits on Twitter, Instagram and Facebook.
Altra introduces the Escalante, a moderately cushioned road running shoe made with the all-new Altra Ego™ midsole and a knit upper for $130 at www.AltraRunning.com.