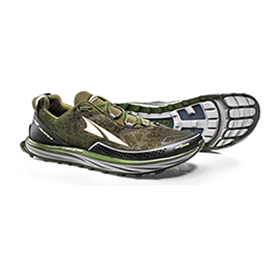 (Logan, UT — January 6, 2017) — Altra Footwear debuts 2017 shoes including an all-new trail shoe, new options in the Lone Peak family, its first ever cross trainer and innovative updates to the One, Torin and Paradigm. Altra will also show its latest edition of apparel featuring lightweight, performance casual pieces.
Altra's newest products will be shown at the Outdoor Retailer Winter Market in Salt Lake City from January 10 to12 at booth 38182. Altra will also be exhibiting at Outdoor Retailer's Media Preview on January 9 at the Salt Lake Marriott Downtown at City Creek from 5pm to 7:30pm. 
Altra Timp
Altra's newest trail shoe — The Timp — fills a missing gap in the brand's award-winning trail runner line. With a stack height of 29mm, this shoe fits the sweet spot for trail runners who want a little less cushion than the Olympus, but more than the Lone Peak.
The Timp features a new MaxTrac™ outsole with a trail rudder for the perfect blend of grip and durability. The InnerFlex™ midsole is cushy enough to absorb elements from uneven terrain, yet is light and flexible. The upper has a new reflective pattern to keep runners visible in any lighting and a new feature on this trail shoe is drainage holes to allow easy release of excess water. The Timp comes in red, blue and black for men and pink, blue and black for women. The Timp is also available for men and women in green, which is Pantone's 2017 Color of the Year.
Like all Altra trail shoes, the Timp is named for a beautiful Wasatch mountain peak where the Altra team runs for inspiration. The name Timp is the locals' nickname for Mt. Timpanogos, a massive peak with an iconic trail to the 11,749 foot summit, the second highest peak in Utah's Wasatch range.
MSRP for the Timp is $130, available July 2017. 
Altra Lone Peak Family
Altra won several awards and glowing reviews for the Lone Peak 3.0 NeoShell™ Mid, a mid- height, waterproof, "runnable hiker", including "Best Winter Running Shoes" from Outside magazine in November 2016 and the Apex Award from Polartec®, for the innovative and first ever use of its waterproof  NeoShell™ fabric in a shoe. This award-winning shoe now includes three new colors featuring brown camo, all-black and chive for both men and women.
New to Altra is the Lone Peak 3.5 Mid Mesh — the same great boot but made of airy mesh, by popular request.  More updates to the Mid Mesh include Altra's DuraTread™, a firmer, high abrasion rubber on the outsole that's ideal for long distance and thru-hikers. The update also includes Altra's new 4-point GaiterTrap™, creating the best, most snug fitting gaiters to protect against trail debris. The GaiterTrap™ points allow attachment at the heel, toe and both sides, a first of its kind in trail shoes.
The Lone Peak 3.5 Mid Mesh will be available in black/red for men and black/pink for women as well as two tactical colors for each gender, Blackout and Sandstorm, perfect for trails, military use, government uniforms and everyday wear.
MSRP for the Lone Peak 3.5 Mid Mesh is $130, available July 2017.
Altra's best-selling trail runner is updated to the Lone Peak 3.5, now with seamless tongue construction to eliminate stacking of extra materials for a slimmer midfoot fit. Two more features are drainage holes to release excess water and the new 4-point GaiterTrap™ for a secure fit with maximum protection. Better breathability, improved construction and a reinforced upper to prevent blowouts makes this the best Lone Peak version yet. Updated color options include red, yellow/black, navy and black for men and dark pink, yellow, blue and black for women.
MSRP for the Lone Peak 3.5 is $120, available July 2017.
Altra HIIT XT
Since the beginning, Altra's natural FootShape™ toe box and Zero Drop™ platform have been a hit for strength training and other non-running gym activities. Altra makes it official with its first ever purpose-built cross trainer, the HIIT XT, a perfect multi-sport shoe.
The stable PowerSole™ platform and firm wrap-around non-slip sticky rubber outsole increase grip, decrease sliding and improves side to side movement. The upper has a durable, yet breathable mesh to keep the foot supported and comfortable from the gym, to the court, to the road. With a stack height of 23mm and a weight of 11.2 ounces for the men's sample, this shoe is low cushioned and lightweight, great for rope climbing, CrossFit® and high intensity interval training, hence the HIIT name.
MSRP for the HIIT XT is $100, available July 2017.
Altra Road Updates
The Torin 3.0 features a redesigned upper with breathable, stretchy fabric for a more comfortable fit. The updated FootPod™ outsole better maps the bones and tendons of your feet for natural flexibility and an improved heel cup eliminates slipping. The One V3 has an improved outsole with slimmer grooves to stop wedged rocks and more rubber for better durability with less visible wear. This shoe also features a redesigned mesh upper for a fresh, new look.
MSRP for the Torin 3.0 is $125 and $100 for the One V3, both available May 2017.
Now featured in Altra's new Dynamic Support category is the max-cushioned Paradigm 3.0. This shoe includes GuideRail™ technology to guide runners' feet and improve form when a runner shows signs of fatigue. The update includes a full rubber outsole for better durability, InnerFlex™ in the midsole for enhanced flexibility and an improved upper with new mesh for a breathable stretch.
MSRP for the Paradigm 3.0 is $130, available July 2017.
Altra Apparel
Altra's Fall 2017 apparel features an expanded line with innovative new options that are incredibly lightweight and breathable with a great athletic fit.
Jackets
Altra has two exciting new jackets. The Altra Wasatch Jacket is made with 20k mm waterproof tested Altra-exclusive ZeroH2O™ fabric and watertight zippers for a truly waterproof fit. The material on this hooded jacket is surprisingly supple and soft to the touch. The jacket features a 4-way stretch with fully welded seams, thumb loops and is incredibly lightweight, weighing only 9 ounces for men and 7.8 ounces for women. The color options include red, navy and black for men and light gray, blue and magenta for women.
The new Altra Packable Full Zip has the same great features as the popular Performance Half Zip, with the convenience of a full zip. The entire jacket packs into the chest pocket and weighs just 3.7 ounces for men and women. This item is made with 4-way stretch ZeroLite™ fabric and venting perforations down the sides, back and underarms provide ultimate breathability.
MSRP for the Wasatch Jacket is $199 and the Packable Full Zip is $130, both available starting in August 2017.
Tops
Branching into a new category, Altra apparel now includes two sweatshirts. The Crew Sweatshirt is knit with a relaxed fit and a classic crew neck. Strategically placed panels on the shoulders and sides allow for breathability with moisture-wicking properties. The Core Sweatshirt is perfect for Altra fanatics. This classic, comfortable-fitting Altra logo branded sweatshirt comes in purple, gray and red for women and gray, blue and red for men.
MSRP for the Crew Sweatshirt is $59 and $45 for the Core Sweatshirt, both available in August 2017.
Bottoms
Altra's apparel lineup now includes three new bottoms. The Jogger Pant, made with a super soft knit, has a relaxed straight leg fit with surged seams and zipper pockets. The men's specific Warm Up Pant, made with ZeroLite™ fabric and mesh paneling, is lightweight, packable and stretchy. The anti-odor material is also durable and waterproof with a performance fit. The new women's specific Reversible 2-in-1 Tight gives two color pairings in one item. Three color options feature one side with fun, bright prints, while the reversible side has neutral, solid colors. A higher waistband with supportive stretch keeps you comfortable through any workout.
MSRP for the Jogger Pant is $69, and MSRP for the Warm Up Pant and Reversible 2-in-1 Tight is $89, all available in August 2017.
About Altra:
While working at a running store, Altra founders Golden Harper and Brian Beckstead saw the pain caused by traditional running shoes. Their passion to create a shoe that made running enjoyable inspired Altra's FootShape™ toe box and Zero Drop™  platform. Within only five years, Altra grew from one to 21 shoe styles, winning multiple Editor's Choice awards and has distribution in over 50 countries.
Join the conversation @AltraRunning and #ZeroLimits on Twitter, Instagram and Facebook.
PR Contact: Colleen Logan, VP Marketing, clogan@iconfitness.com