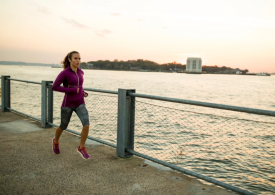 (Logan, UT — March 14, 2017) — Altra launched its Spring 2017 apparel collection with expanded styles, more apparel in its signature ZeroLite™ fabric and colors designed to match your favorite pair of Altra running shoes. Women can choose from magenta, teal, shell pink and silver gray, while men have "Altra red", blue, navy and gray. The apparel coordinates with a range of Altra road and trail shoes for a perfect mix of fashionable and functional outfits.
The Performance Hoody is an example of Altra's continuing innovation, even in apparel. A VizTex™ reflective, invisible, all-over print illuminates when light from headlights, street lights or headlamps shine on the hoody. The Performance Hoody's 360-visibility is perfect as dark winter runs slowly transition to spring. This piece features a slick hood keeper and a kangaroo pocket with a smaller zippered "joey pocket", perfect for securing phones, keys and other essentials. Color options for this $90 item are orchid or gray for women and deep navy or gray for men.
Altra's award-winning StashJack takes everything you love about the original and adds full back coverage. By adding a fabric overlay, the new StashJack Full Back can be worn with or without a pack and cleverly solves the struggle of taking off or putting on a jacket mid-adventure. The jacket stashes into and slides out of a small pouch belted around your waist for max functionality during anything from a bike commute to a trail run. This $130 jacket weighs just 3.3 ounces with unisex sizing from XS to XL. The standout color for women is a cherry red camo.  The silver gray camo will appeal to anyone looking for a light and bright color, with cobalt blue and black completing the options.
Altra's early success with its proprietary ZeroLite™ fabric has encouraged the brand to expand with this material.  Runners appreciate the material's four-way stretch, incredible durability, moisture wicking and wind resistance properties, while being soft to the touch with an athletic fit. ZeroLite™ fabric was designed to keep everyone from the 5k runner to the ultra-marathoner comfortable and unrestricted on the run, in keeping with the brand's #ZeroLimits motto.
This revolutionary fabric is featured in three new items:
Altra's Performance Skort has the perfect combination of function and fashion, such as a wide, flat waistband with five pockets, one with a zipper. Made with ZeroLite™ fabric, this skort features a flattering asymmetrical hemline, and a built-in anti-odor fitted short in a printed fabric that coordinates with Altra's Running Tees and Tanks. Colors options for the $80 skort are shell pink, magenta and gray which match Altra's Escalante, Instinct 4.0 and Provision 3.0 road shoes, and Superior 3.0, King MT trail shoes for just a few examples.
The new Trail Short has a built-in running belt with two front mesh pockets, three back mesh pockets and one center back zip pocket, perfect for holding all your gear on the go. This piece features a seven-inch inseam for men and four-inch inseam for women. ZeroLite™ fabric, along with flat stitching makes this a great fitting short, while mesh panels provide maximum breathability. These shorts are also incredibly light, weighing 4.5 ounces for men and 3.5 ounces for women. This $60 item comes in black and gray for women and navy and black for men.
Altra's Performance Half Zip, its first ZeroLite™ garment, won awards and accolades for the runner-perfect combination of stretch, comfort and fit. This spring, women can choose shell pink or magenta to match the ZeroLite™ skorts and shorts, and coordinate perfectly with Altra's printed tees, tanks, capris and tights, as well as a range of Altra shoes. Men now have a handsome "Altra red" to match perfectly with Altra's King MT, Superior 3.0, Lone Peak family, Escalante and the upcoming One v3, Torin 3.0 and HIIT XT. The Performance Half Zip has thumb loops, a reflective trim and is incredibly lightweight, weighing only 4.5 ounces, a full two ounces lighter than an iPhone 7 plus! The half zip offers adaptable weather protection and packable convenience for only $130.
Also included in Altra's Spring apparel release are staple tops and bottoms, perfect for any workout or activity.
Altra's Running Tank and Running Tee were designed to wick away moisture and increase durability. Side mesh panels and anti-chafing flat seams allow for a comfortable performance fit. Women's colors for both tops are shell pink, orchid and teal blue and men's are Altra red, blue and gray.  Price points are $40 for the Running Tank and $45 for the Running Tee. The Running Long Sleeve is a versatile long sleeve tee with thumb loops and is engineered with flat stitching for less chafing. Color options are lime and gray for women and blue and gray for men; it retails for $50.
The women's Capri Tight is form-fitting with a wide waistband, five pockets and back of the knee mesh vents. The $70 Capri Tight comes in a marbled design in shell pink or gray and black. The Performance Full Tight also comes in the pink and gray marbled design for women. Welded seams, moisture wicking material and back of the knee mesh ventilation provide the ideal combination of convenience, performance and comfort for only $80.
The Running Short is ultra-lightweight at 4.2 ounces with a five-inch inseam for men and 3.5 ounces with a three-inch inseam for women. Built-in anti-odor briefs and mesh perforations keep you fresh on the go. This $50 short comes in gray, black and teal for women, and blue, black and gray for men. The Long Running Short provides great breathability with mesh paneling in high sweat zones, along with an anti-odor fitted brief and a seven-inch inseam. A built-in running belt with five pockets allows for a hands-free run. Colors options for this $50 short are gray and black.
Altra's Spring 2017 apparel is available now at www.AltraRunning.com.
About Altra
While working at a running store, Altra Founder Golden Harper was frustrated that modern running shoe technology caused poor running form and had not decreased running injuries. His passion to create a shoe that followed the science produced Altra's FootShapeTM toe box and Zero DropTM  platform. Since its founding in 2011, Harper and co-founder Brian Beckstead have grown Altra from one to 21 shoe styles, winning multiple Editor's Choice awards and distribution in more than 50 countries. Join the conversation @AltraRunning and #ZeroLimits on Twitter, Instagram and Facebook.
Media Contact: Colleen Logan, VP Marketing, clogan@iconfitness.com