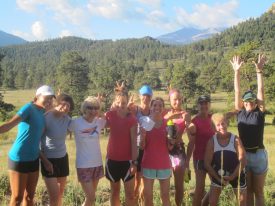 Estes Park camps focused on empowerment for women runners and inspiration for trail runners include national class guest athletes
Estes Park, CO – Active at Altitude, the innovative creator of experiences that educate, inspire, and empower an active, healthy, mindful lifestyle, have announced that registrations for their 2018 training camps are running at record levels. Three out of the five camps have already sold out, and interest has been so high that an additional camp has been added for beginner women runners this summer to meet demands.
Active at Altitude training camps take place in Estes Park, CO, basecamp for Rocky Mountain National Park. Camps cater for two specific niche running markets, women's running camps and co-ed trail running camps. Camps include expert coaching, instruction on mental training techniques using positive psychology and the exciting new activacuity app for athletes, comfortable accommodations, and inspiration across physical, mental, spiritual and emotional levels. Each camp features national-class athletes, including two time US Mountain Running Champion Addie Bracy, US Skyrunning champion Hillary Allen, National Masters Champion, Melody Fairchild, Executive Director of the American Trail Running Association, Nancy Hobbs, and Team USA and Inov-8 athlete, Peter Maksimow. The women's camps have a focus on empowerment for women runners, while the trail running camps are an inspiring launchpad for anyone looking to be introduced to one of the fastest growing outdoor sports in the US.
These inspirational and educational camps have received accolades from top media publications, Shape magazine describing the women's running camps as "a once in a lifetime fitness retreat for women", and CNN featuring the co-ed trail running camps as one of the top 11 adult training camps in the US. The camps have also been featured in Runner's World, Trail Runner Magazine, Competitor, and Women's Running Magazine.
Each camp has limited places available, organizers preferring to keep numbers small to offer the best personal experience possible. The women's running camps are offered at three levels – advanced, intermediate and beginner. The Active at Altitude website gives details on recommendations for each level of camp. The beginner camp has sold out so rapidly that another camp has been scheduled for this summer to meet demand. The intermediate women's camp has also sold out, while there are limited places available for both the advanced level women's camp, and the co-ed Fall trail running camp.
Runners that attend also have the opportunity to try out shoes from manufacturers like Inov-8, hydration devices from Orange Mud, endurance drinks and gels from VFuel, and hydration drink products from Gnarly.
Terry Chiplin, Camp Director, and owner of Active at Altitude, comments, "We are thrilled that registrations for our 2018 camps are running at record high levels. All our camps have been growing in popularity organically, and the registration levels for this year we believe is a key indicator that our camps deliver what runners are looking for. We look forward to another successful year where we educate, inspire and empower more runners than ever before. We encourage runners to secure places for our 2018 camps before they sell out."
See details on all the Active at Altitude camps and to register at
www.activeataltitude.com