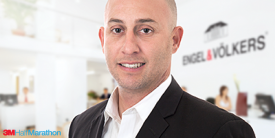 Partnership makes Ben Phillips - Engel & Völkers Austin the Official Realtor
AUSTIN, Texas, January 12, 2018 – High Five Events, one of the largest privately owned event production companies in the United States, introduces Ben Phillips – Engel & Völkers Austin as the Official Realtor of the 2018 3M Half Marathon. As the Official Realtor, Phillips is currently giving away two 3M Half Marathon entries and will have a space at the expo, complete with photo booth, to talk to athletes about their housing needs.
"As a longtime member of the Austin endurance and fitness community it is exciting to be the Official Realtor of the 3M Half Marathon," said Ben Phillips, Real Estate Advisor Engel & Völkers. "3M Half Marathon is one of the marquee running events in this city and we are proud to play a role in enhancing the event experience for thousands of participants and spectators."
Ben Phillips – Engel & Völkers Austin knows Austin extensively and is a mainstay in the endurance athlete community. Not only does he sponsor various endurance events around town, he often participates in them as well. Phillips uses his real estate experience and knowledge of Austin to help athletes find homes that are within proximity of where they need to train.
"Ben understands the value of living close to where you train and he combines his knowledge of Austin and real estate experience to serve all of his clients," said Jack Murray, co-owner of High Five Events. "We're glad to have Ben, an endurance athlete who knows the City of Austin inside and out, as a sponsor for the 3M Half Marathon."
The 3M Half Marathon boasts one of the fastest 13.1-mile courses in the country and will celebrate its 24th year running in 2018. Runners enjoy a point-to-point course with mostly downhill running that showcases some of Austin's finest locations. Starting in north Austin and finishing near the Texas State Capitol, runners will appreciate a 300'+ net elevation drop. Participants can register on the website.
About High Five Events: Beginning with the launch of a single triathlon in 2003, High Five Events has grown to become one of the largest privately owned event production companies in the United States. In addition to the events it owns and produces, the Austin, Texas-based company offers consulting and event production services to dozens of additional events each year. High Five Events is community-centric and has more than 100 years' combined experience organizing large events across different venue types in a variety of locations. Follow High Five Events on Twitter (@highfiveevents), Instagram (@highfiveevents), and Facebook (facebook.com/HighFiveEventsWorldWide/) for news and updates.
About Engel & Völkers Austin: Engel & Völkers Austin, formerly Turnquist Partners, was founded in 1995. By combining unparalleled knowledge of the Austin market with a proven team on a united mission, the Turnquist's built an unmatched reputation for success.  In March 2015, Turnquist Partners purchased the Austin-Metro franchise of the Germany-based Engel & Völkers, one of the world's leading companies specializing in the sale and leasing of premium residential and commercial property, yachts and aviation. With over 700 shops in 37 countries and five continents, the team at Engel & Völkers Austin continue to offer the client service of a luxury boutique firm, but with the marketing reach of a global company. In addition to receiving the top accolade from Engel & Völkers for North America, the 2015 Cup Award, Engel & Völkers Austin ranked in the top three for US Transactions and Gross Commission Income in the US, as well as contributions towards the Special Olympics in North America.